Oak Trails Senior Housing Complex Under Construction in San Angelo
SAN ANGELO, TX -- San Angelo officials broke ground recently on a new 48 unit senior housing complex along the Concho River at 625 Rio Concho Drive next to the Arbor Terrace assisted living facility which is undergoing renovation.  
Oak Trails Senior Housing is a $4.9 million, 48 unit project.  It will take about a year to complete and city councilman Harry Thomas is happy the complex is being built in his district. Hamilton Builders, LLC is the general contractor.  Hamilton currently has other projects underway in Lindale, TX; West, TX; Greeley, CO; Montrose, CO; Kansas City, MO; Willard, MO; St. Peters, MO; and Oklahoma City, OK.
The project is being funded with low income tax credits from the U.S. Department of Housing and Urban Development.  
Councilman Thomas stressed that the apartments are not low income housing in the sense of "section 208" housing. Rather, the apartments are being built a serve a narrower demographic of people who require affordable housing.
Thomas believes the location for the government-subsidized project will enhance property values because it is a more appropriate location than the Valleyview project next to Southland proposed three years ago.
According to the general contractor's website, Oak Trails will provide seniors in San Angelo with 48 affordable one and two-bedroom units, made up of a combination of four and six-plexes. All 48 units will include washer and dryer connections, patio and outside storage area, vaulted ceilings in the living room, and covered entries. All units will be furnished with energy efficient appliances, central heat and air, and 9-foot ceilings in the common area.
To provide residents with an opportunity to gather, a community building will be on-site and available to residents daily. The community building will encompass a lounge area with a large T.V. and plush seating, a furnished fitness room, coin-operated laundry room, internet café/library, and oversized kitchen. Oak Trails encourages residents to enjoy the community space with their families, friends, and neighbors. A full time onsite manager and maintenance staff will be employed.
The housing development will include one bedroom units with 722 square feet and two bedroom units at 1002 square feet.  Pre-leasing will begin soon according to Thomas.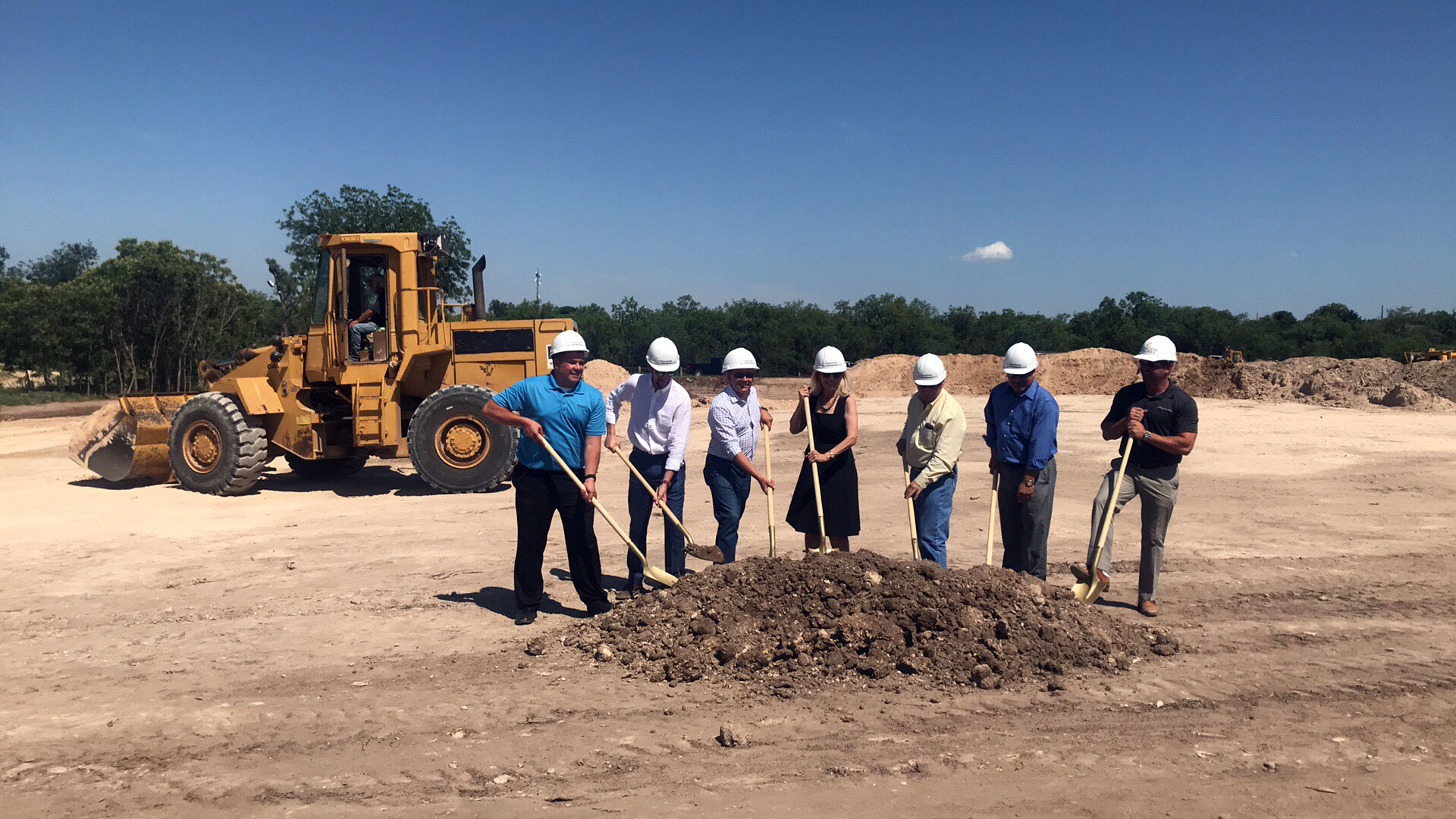 Above: Groundbreaking for the new apartments off Rio Concho. San Angelo Mayor Brenda Gunter in the center. (LIVE! Photo/Brandy Petty)
On a related note, June is National Healthy Homes Month according to the HUD website.  Homes and health are inextricably linked together, reflect two of the most basic needs of a society, and serve as an indicator of the strength of the nation. In an effort to help families create healthier living conditions for themselves and their kids, the U.S. Department of Housing and Urban Development (HUD) is kicking off the third annual National Healthy Homes Month (NHHM).
Throughout the month, HUD's Office of Lead Hazard Control and Healthy Homes and its partners seek to increase awareness about health and safety hazards in the home, and to examine new methods to protect families."Making homes safe and healthy involves collaborations among federal and local agencies, residents and community organizations," says Matt Ammon, Director of HUD's Office of Lead Hazard Control and Healthy Homes.  "During Healthy Homes Month, we're mobilizing the collective efforts of Federal, State and local health and housing professionals to protect families where they spend most of their time—in their home, because it's hard to be healthy when your home is making you sick."
Get more stories like this by
signing up for our daily newsletter, The LIVE! Daily
.