San Angelo ISD Makes its Pitch for the $149 Million Bond
SAN ANGELO, TX — The school district runs on an annual budget of $111 million. Most of that budget—about 80-85 percent—pays salaries. "We are people heavy on purpose with around 2,000 employees," Dr. Carl Dethloff explained.
Dethloff, the Superintendent of Schools for the San Angelo ISD, wants the $148.9 million bond to pass, but by law he can only encourage his audience to vote their conscience. "But please do get educated and vote," he said to the San Angelo Chamber of Commerce luncheon at noon. About 200 business leaders were present.
The bankers want the bond to pass, too. Many of them head up the private 'Vote Yes for San Angelo's Kids" group, some of whom were appointed to the school district's Long Range Planning Committee. Retired banker Mike Boyd asked the chamber membership to "do the right thing for our kids" and vote yes for the bond.
Dethloff described the modern way classrooms are formed. School children today are taught to learn collaboratively, situated in groups. The goal is to develop the kids to be creative, think critically, to communicate well, and collaborate, he said.
What do our learners need? What kinds of facilities does this way of teaching require? After showing a timeline of how technology has changed since the 1950s until today, Dethloff said that many of the San Angelo ISD's facilities are over 50 years old and two of the structures are over 100 years old.
"We've moved from standardization to customization. We've moved from isolation to teamwork, collaboration and partnerships. And from a command and control situation to creating conditions for success. [We have moved] from rigid structures to adaptable systems. If you're not nimble as a teacher (or administrator), you won't have much success," Dethloff said.
With that, Dethloff admitted that the appraisal district's valuations are going up, and with it, everyone's gross property taxes paid. At the same time, he wanted the audience to consider that the school district he heads needs to create the best conditions for success of all students. Even the kids in trouble at the Carver School need good facilities. "Those are good kids who go there. They just make poor choices. In many cases, this is the last chance we have to change their direction in life," Dethloff said.
The bond will pay for a new Carver, officially called the Alternative Learning Center. The current building built in 1937 suffers from lack of handicapped accessibility, small classrooms, and today has portable buildings to augment the need for more classrooms. A new, larger building proposed by the bond will fix those problems.
The hallmark of the San Angelo ISD is the network of 17 elementary schools that are located within various neighborhoods in the city of 100,000 residents. The elementary schools are focal points for each neighborhood, where some of these schools, with grades K-5, are accessible to every student living nearby just by walking to the school. There are no bus routes needed to bring every student who is attending McGill Elementary School to class, for example.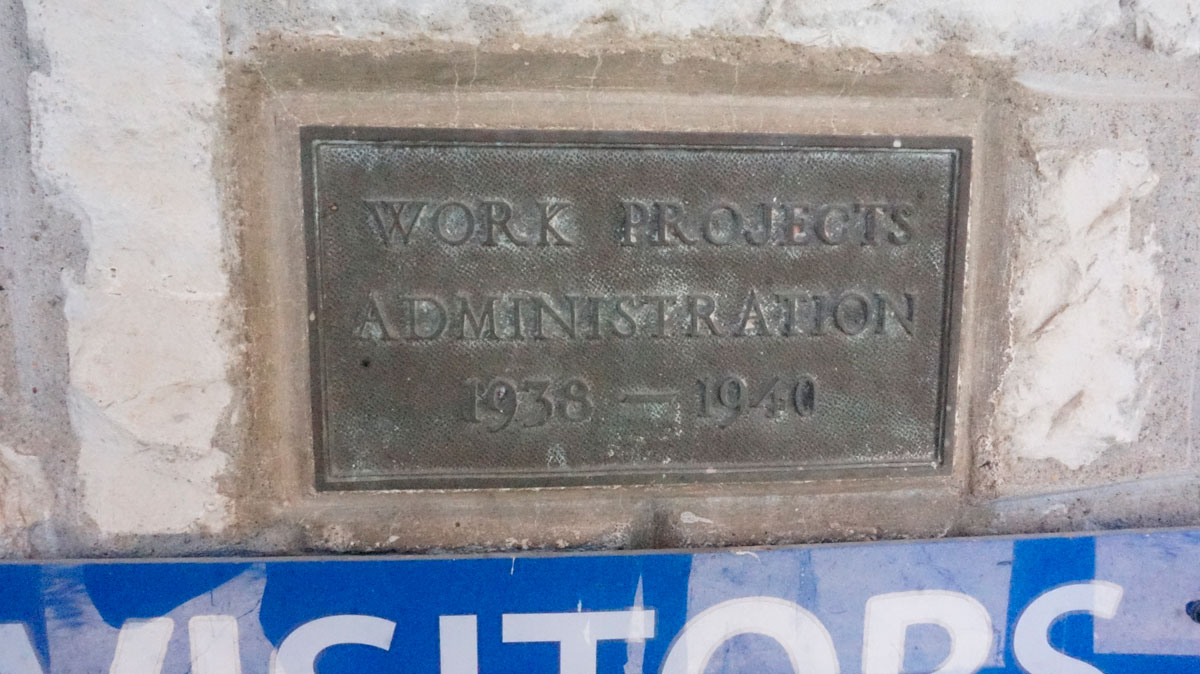 Above: McGill Elementary School was built in 1938 as part of FDR's New Deal Works Projects Administration construction program. (LIVE! Photo/Joe Hyde)
The upkeep for all of these elementary schools is expensive, Dethloff argued. The feature of having neighborhood elementary schools is an investment that the citizens of San Angelo thought worthy of perpetuating into the future, he said, based upon San Angelo ISD polling data and feedback. Not mentioned in his presentation were cost-saving opportunities that could be gained by consolidating those 17 neighborhood elementary schools into three or four central campuses. The point is, modernizing 17 elementary school facilities is not inexpensive. The bond election proposes to renovate six elementary campuses. Four of them will be more than 80 percent rebuilt, including McGill Elementary located off Sherwood Way near Arden Road.
At McGill, the original building was built in 1938 as part of FDR's New Deal Works Projects Administration construction program. Spread out into other campus buildings there, Dethloff pointed to McGill's cafeteria as a "low light," not highlight, of a tour of district facilities. Walking to the end of the cafeteria line where kids are provided their tray full of food is a low countertop with two sinks, side by side. It looks like an un-remodeled residential master bedroom bathroom from the 1970s. One would think the food line ended in a bathroom. Though clean and well kept, the kitchen is small. Meanwhile, above the rows of cafeteria tables in the main seating area are after-market air conditioning ducts extending from the roof while the window frames surrounding the room are rotting away from years of water runoff and condensation.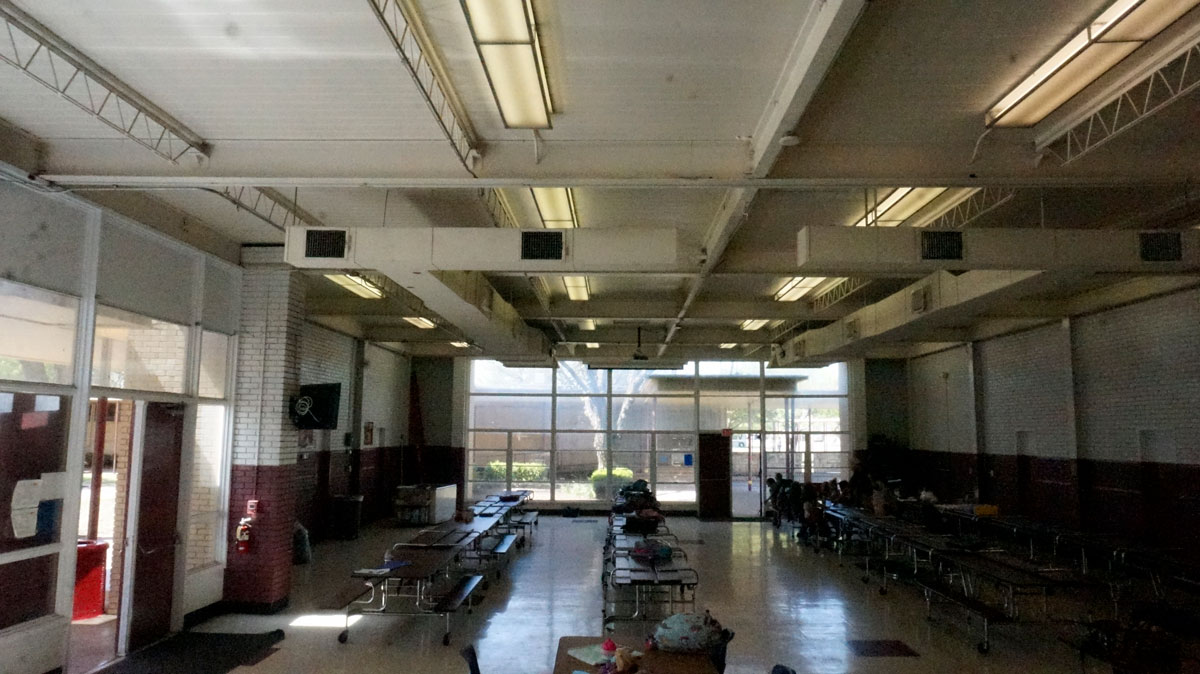 Above: The small, outdated cafeteria at McGill Elementary School. (LIVE! Photo/Joe Hyde)
Principal John Reuter is proud of his campus and the kids and faculty under his leadership. As an indicator of the neighborhood pride exhibited by his staff, one teacher there said she was once a student at the very same school where she now teaches.
His major challenge right now, he said, is that his kindergarten grade classes are held in two buildings across Millspaugh St. from the main campus. Every day, teachers escort 5-year-olds across that street to lunch in the cafeteria and occasional school-wide assemblies.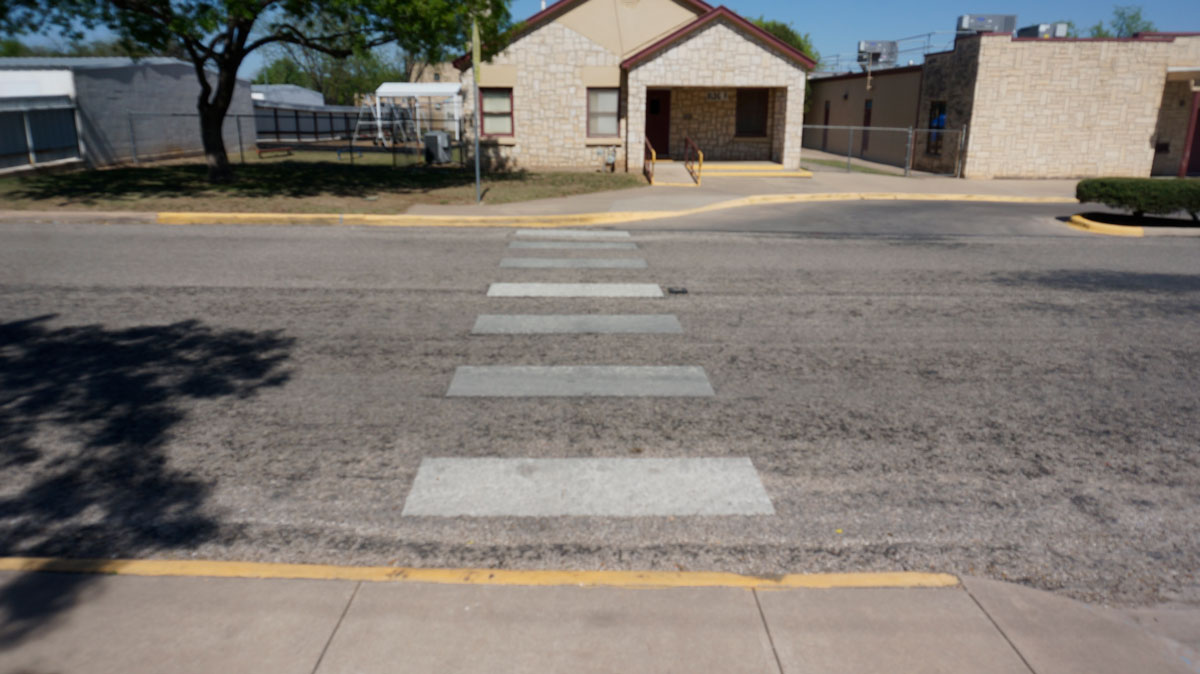 Above: The crosswalk across Millspaugh St. at McGill Elementary School where kindergarten students have to cross daily. (LIVE! Photo/Joe Hyde)
The physical classrooms are small, and crowded, he said. The current State of Texas law states that, in grades K-4, a class cannot have more than 22 students. In many of the classrooms at McGill, desks are clustered in crowded collaborative settings giving very little room for group gatherings, as necessary for modern classroom operations that Dethloff described to the chamber. The Americans with Disabilities Act brought makeshift wheelchair ramps built onto the older buildings there.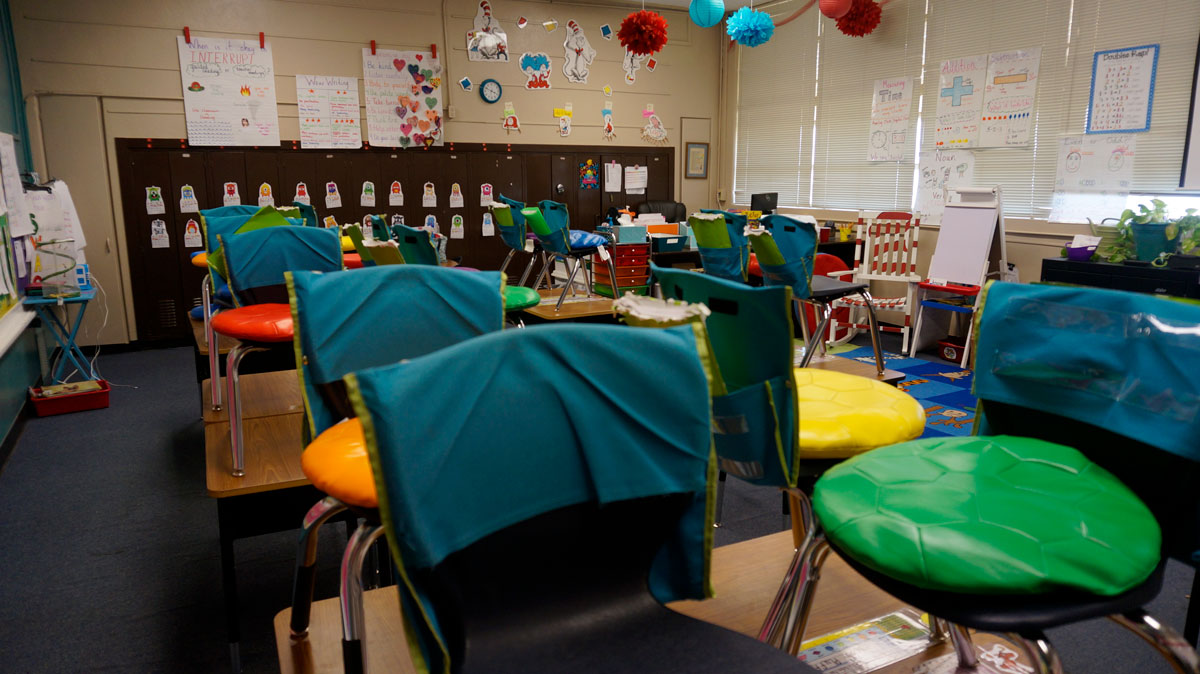 Above: Small, crowded classrooms at McGill Elementary School. (LIVE! Photo/Joe Hyde)
If the bond passes, McGill will be torn down and a new campus built on the south side of San Antonio St. The total cost will be around $22 million, according to previous reporting.
Four other elementary schools are proposed to receive 8-figure price tag improvements, including Alta Loma, Bowie, Austin, and Fannin.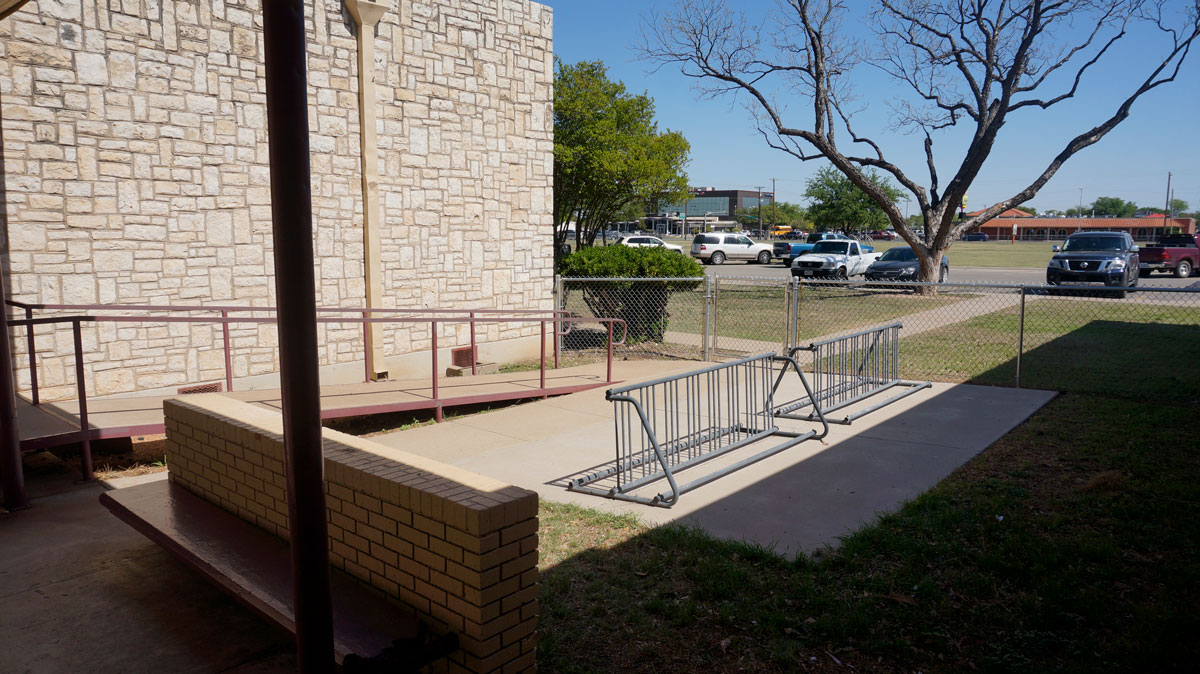 Above: Aftermarket ADA ramps at McGill Elementary School. (LIVE! Photo/Joe Hyde)
The largest project for the proposed bond is the construction of a new multi-purpose center at Central High School. Its price tag is estimated to be $30,400,000. Dethloff said the building, which is best described as a modern gymnasium, would be able to assemble all 2,700 students attending the 6A high school. Currently, there is no facility on the Central campus where the entire student body can assemble. This makes school-wide pep rallies or school programs impossible today.
Dethloff's presentation to the chamber at noon ended with no opportunities for questions and answers. The hour had run out.
Here Comes the Tea Party
Dethloff finished his speaking tour as a member of a large panel at the monthly meeting of the San Angelo Tea Party Tuesday evening. Generally anti-tax, the politically conservative group was predisposed to oppose the bond. Dethloff joked to Mary Casper, who was in the audience dressed in a bright yellow shirt with "No Bond" across the chest, "I know where you stand, Mary."
Dethloff explained to those gathered at the West Texas Training Center at the Howard College campus that the school district board of trustees has lowered the tax rate by 14 cents over the past 10 years. At the same time, he said, every year over the past 10, the board has managed its money well, financing about $3 million per year in capital improvements that don't have to be addressed with a bond. Those improvements included:
Central Freshman Campus HVAC Upgrades - Phase I
Lou G Gym Repairs/Renovations
SAS, Central, Old Bobcat, LV Turf /LV Track Replacement
Tennis Dressing Rooms
Central Pool Repairs/Renovations/ROTC HVAC
Fort Concho Classroom Additions
Elem PE Gym A/C
Glenn MS Classroom Additions
E - Rate Projects
Glenn/CFC Air Conditioning Gyms
Air Conditioning - Austin Elem
Glenn MS Restroom Renovations and Repair
Admin Building HVAC
Air Conditioning - McGill Elementary
Air Conditioning - Alta Loma
Central Tennis Court Upgrades
Air Conditioning - Belaire Elementary
Central Band Hall Phase 1 (Add Doors)
Austin Elem Office/Window Project
Air Conditioning Fort Concho Elem
Bleacher Replacements BB & Softball
Joining Dethloff were two school board members, Bill Dendle, also the owner of Angelo Plumbing Supply; and Dr. Taylor Kingman, MD, an urologist at Shannon Medical Center. Dethloff had a meeting in Austin with 38 other superintendents from around Texas with Lt. Gov. Dan Patrick Wednesday morning and had to leave before the meeting was over. So, the trustees hunkered down.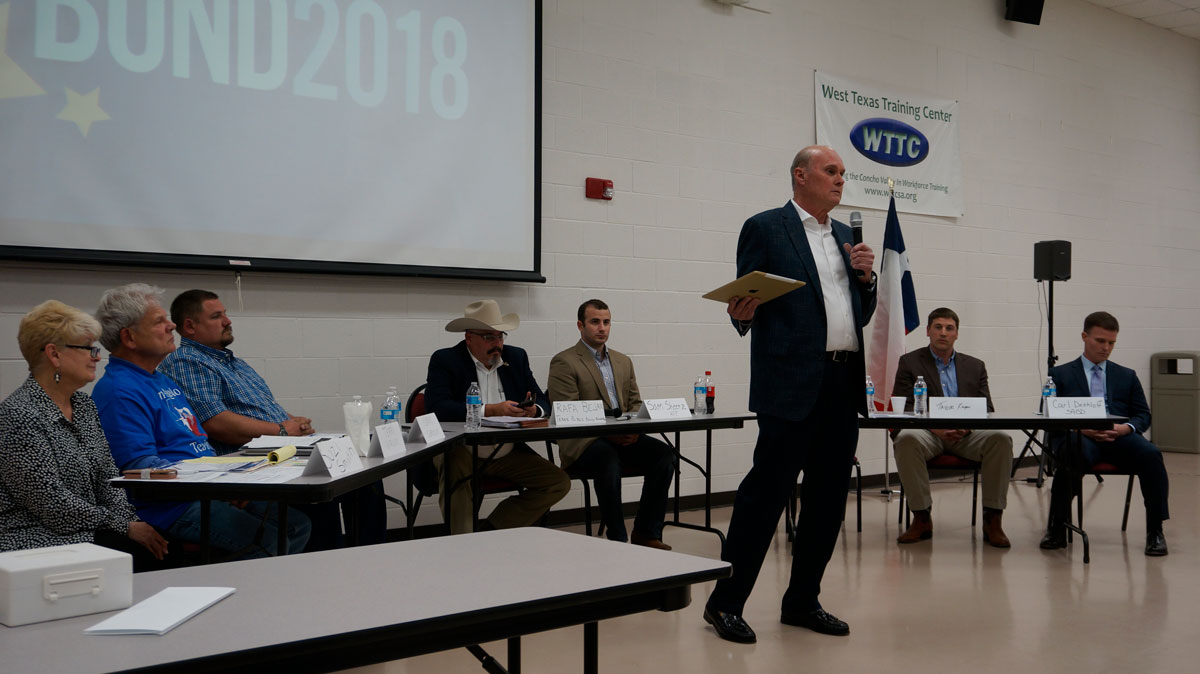 Above: San Angelo ISD School Board Trustee Bill Dendle at the panel of experts at the San Angelo Tea Party meeting on April 10, 2018. (LIVE! Photo/Joe Hyde)
Facing them on the panel were state activists Rafa Bejar of the Texas Public Policy Foundation and Sam Sheetz of Americans for Prosperity. Also on the panel were citizens Terry and Chris Giroux, along with Suzi Smith. Chris Giroux was the likable fellow who ran for city council and lost last go-around. Terry was his dad. Mrs. Smith said she was a "wife, mother, grandmother, and great-grandmother."
Smith presented a handout containing a chart of performance metrics gathered from SchoolDigger.com, a data aggregation website with repurposed information from the Texas Education Agency's testing data. It had ranked all 4308 public schools in Texas based on presumably test scores, and assigned each public school a ranking of one to five stars, five stars being the best. Not many San Angelo ISD schools had high ratings.
Smith's argument was that since the 2008 bond was passed, San Angelo ISD schools had deteriorated in their performance rankings on SchoolDigger.com. Suggesting there was a correlation between school ranking on that website and infrastructure spending at each campus, she asked how is making this $149 million investment going to give the community any return on investment?
Dr. Kingman explained that the TEA's scoring isn't a 0 to 100 scale, but instead a comparison between the best performing schools and worst within each school district. Besides that, the TEA's scoring system has been modified greatly over the past 10 years, so comparing 2007 rankings to 2017s is problematic. Regardless, he said, comparing academic performance to dollars spent on school facilities is like comparing apples to oranges. There was no correlation, he argued.
Fort Concho Elementary's SchoolDigger.com scoring increased from the bottom 19 percent in 2007 to being in the top 9 percent 10 years later. Why is that, Smith asked? "Well, since 2007, we have designated Fort Concho to house our gifted and talented programs," Kingman said.
Christian Reporter News' owner and reporter Kat Rowoldt presents the "more money spent makes school ranking go down argument" in an article. See "What the SAISD Doesn't Want Us to Know."
Chris Giroux was the toughest on the board members. Explaining that he worked in maintenance at the San Angelo ISD for a few years, he riffed off a number of what he called wasteful projects, such as installing expensive new air conditioners on facilities slated for demolition if the bond is approved, like the building with a new AC just installed at McGill. He questioned why the previous bond purchased a new copper roof now on the Central High School Tucker Building, and panned a plan he heard about that will tear down the Sarah Bernhardt Theatre at Central to make way for the fancy, new gymnasium.
Kingman said many of those complaints are misconceptions. "When I was elected to the board, all I heard about was that copper roof," he said. "I didn't want to make that mistake again so I looked into it."
Kingman said he learned that installing the copper roof increased the cost of construction less than one-half of one percent but, "the reason copper was recommended (by the architects) was because it actually decreases costs over the life cycle (of the building)."
Kingman assured the audience there was no plan to tear down the Bernhardt Theatre. Instead, he said, the current proposal is to connect the theatre to an atrium along with the new gym to be built if the bond is approved.
The bottom line, Kingman stressed, was "The 2008 bond was completed on budget."
Rafa Bejar of the Texas Public Policy Foundation (the Heritage Foundation of Texas, is how he described his 504(c) 3), said he couldn't recommend or not recommend the San Angelo ISD bond because his organization is forbidden by law to do so. But, he said, he can provide general guidelines on how to judge a bond proposal. His guidelines called for looking for possible kickbacks to elected officials, or sweet deals for favored construction contractors. He also told the audience they should ask questions to determine if the bond is affordable.
School board member Bill Dendle used Bejar as his personal fact checker for the rest of the discussion. For example, someone in the audience asked what percentage of school district employees are actually teachers. As Dendle guessed about 50 percent, Bejar used his smartphone and Googled for an answer.
"The TEA states 49.71 percent," Bejar affirmed. The crowd was about to assume the remaining 50.28 percent were wasteful school administrators. That's when Chris Giroux reminded everyone that there are maintenance personnel, janitorial staff, secretaries, and etc. In addition to about 1,000 teachers, there were about 800 non-administrators in all, Dendle added. Giroux agreed.
The Tea Party panel discussion ran long, sometimes meandering into school security. Some questioned if the secretaries were armed when Dendle told the audience that secretaries would man the to-be-built vestibules, or entrances, to the elementary campuses. Not armed, Dendle said. "They'll be behind locked doors," he explained. "And they'll decide who they'll allow in."
As the discussion winded down, it was hard to determine if the school board members changed any minds. They were, however, able to dispute misconceptions of school district budgeting and myths about previous large projects completed.
The bond will increase the Interest and Sinking portion of the San Angelo ISD property tax rate by 14.25 cents, increasing the total San Angelo ISD tax rate by 12 percent. It raises the tax rate from $1.21 per $100 in property valuation to $1.3525. The $148.9 million bond will be decided by an election May 5. Early voting begins April 23.
Dethloff said the estimated tax increase is equivalent to $15.32 per month, or $183.84 per year, on the median home value of $154,000 in San Angelo. He said the $15.32 would otherwise purchase two grande café lattes at Starbucks along with a combo meal at Chick Fil A once per month.
The bond faces soft support and softer opposition. Our polling via Google Surveys indicates that about the same number of people, 33.0 percent, oppose the bond compared to 33.6 percent who are undecided. There are 23.1 percent firmly in favor of the bond. Our survey was taken March 29-31 of 1,000 respondents who said they were eligible to vote in the bond election.
Get more stories like this by
signing up for our daily newsletter, The LIVE! Daily
.