Addressing a Crisis With San Angelo's Families
SAN ANGELO, TX — The Tom Green County Jail is busting at the seams. Built to hold 449, the inmate count exceeds 500 most nights. County Judge Steve Floyd brought attention to the socialization of the county's criminal justice system this month. It is costing taxpayers more money as more citizens here turn to a life of crime. Taxes will have to increase to handle it.
Tom Green County Sheriff David Jones said in an interview in 2014 that law enforcement cannot solve all societal problems. Jones was addressing the high number of domestic violence incidents at the time, a problem that hasn't gone away.
There aren't any easy solutions to these problems. But a Christian ministry, House of Faith, is attempting to fix some of them by reaching out to San Angelo area families and strengthening them. It all starts with local children.
The basic building blocks of our community are families. And, according to Kevin Reynolds, Director of the San Angelo-based House of Faith, we have a crisis that is impacting our children in negative ways, leading to stresses on our county's criminal justice system as these children reach adulthood.
"Did you know that the vast majority of the children in this community don't go to church on a Sunday morning at all anywhere, ever. They are not growing up with a faith message like you and I did?" Reynolds asked.
For someone with the Christian faith, no knowledge of salvation has dire consequences. But not having a foundation in basic moral principles, something a Christian worldview offers, also points to a community crisis of its families.
Reynolds has had his finger on the pulse of the health of San Angelo families for over two decades. He described gangs filling the void of what once were traditional families that in the past incorporated a mother and a father.
His conclusion:
"There's an undercurrent in our community where our kids are dealing with alcohol, drugs and gang involvement," he said. Then he held up his iPhone. "This is one of the worst things impacting our children now," he said. "The level of pornography has skyrocketed with easy access through devices like this. This is particularly true with elementary school-aged boys." The sophistication of technology like smartphones amplifies old issues and the problems with raising boys. It is almost not manageable, Reynolds said.
Then, there is a problem with even middle class parents who have to work two jobs to just get by. Daycare is expensive. That means for many parents in San Angelo, their children are latchkey kids. More kids are unsupervised after school now more than ever before.
There is more.
A typical family in San Angelo is a single mother with multiple children, Reynolds said. "We don't have many fathers."
"Boys who grow up without fathers tend to be the kind of men who aren't fathers," Reynolds said. From Reynolds' experience, he said the reason is the boys do not have an example to follow in order to know how to be a father. The traditional family makeup of a father, mother and children is too many generations removed today.
"That's why we do what we do," he said.
Friday, Reynolds spoke to the San Angelo Rotary Club about the mission of the ministry, House of Faith that he helped found in 1994.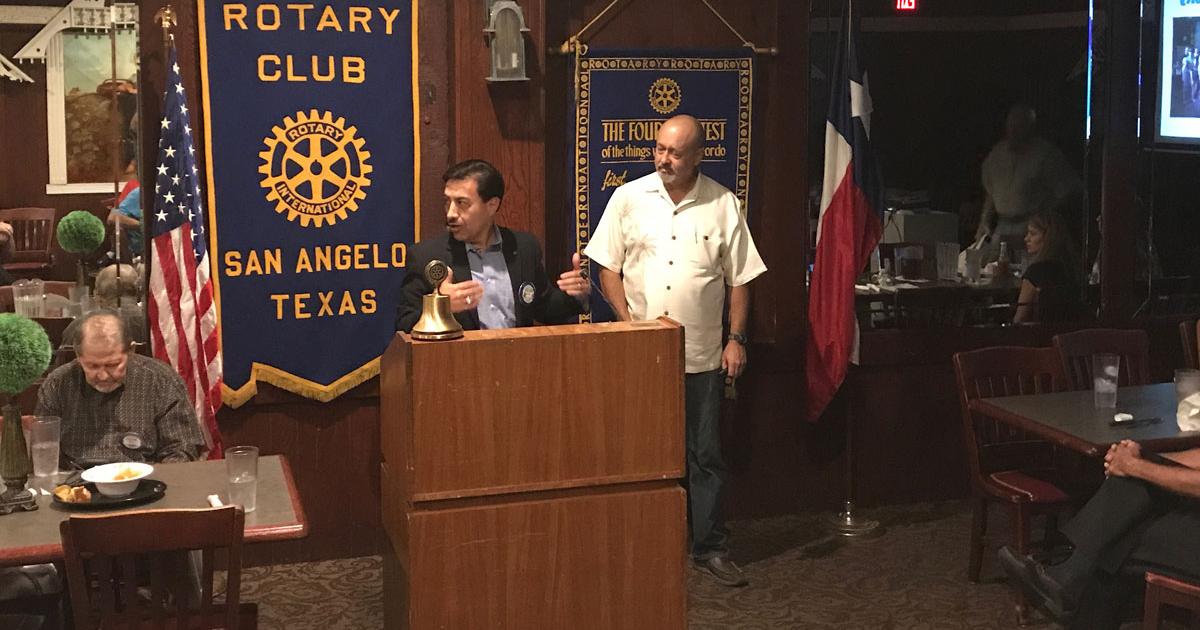 Above: San Angelo Rotary Club President Roland Pena introduced Kevin Reynolds, Director of the House of Faith. (LIVE! Photo/Joe Hyde)
What the ministry does is reaches into neighborhoods to teach the Gospel to children and the families of those children. The programs are called "Backyard Bible Clubs." There are 15 of them today, including one in Grape Creek. It's an informal gathering located somewhere within walking distance for neighborhood children to voluntarily attend.
The first Backyard Bible Club meeting in 1994 attracted 63 kids, Reynolds said. "We were ready for 25."
Way back then, using a flannel board to tack cutout figures of Bible story characters, founder Rachel Beaver taught the first class. "We didn't know if the kids would come back, so we wanted to teach them the whole thing," Reynolds said. "We started at The Creation and went all the way to the Book of Revelation in seven minutes."
Beaver is retired now, but she is still involved on the ministry's board of directors.
Today, the Bible study curriculum is much more refined. Reynolds said the central point the ministry stresses is the story of Jesus. "We tell the kids, look, he didn't do anything wrong, but they put him on a cross and killed him anyway," he said. The story evokes anger in children who haven't heard it before.
Then the class turns to the Resurrection of Jesus and how the sins of man are forgiven because of Jesus' sacrifice on the cross.
"Here are kids who aren't in Mexico, not in Russia, or anywhere else. They are down the street, and they have never heard or understood the story of Jesus," Reynolds said.
"That moment when kids understand what Jesus means is what defines House of Faith," he said.
Reynolds stressed, by the age of nine most of the spiritual and moral foundations of a child are in place. "Most people have their spiritual beliefs irrevocably formed in their preteens. What they believe by the time they are 13 is likely what they are going to die believing," Reynolds said.
Reynolds said the House of Faith reaches 1,600 elementary school-aged children with its backyard Bible clubs, and 250 middle and high school students with programs at the House of Faith facilities on S. Koenigheim St.
This year, the ministry partnered with the H-E-B Foundation Camp to teach a curriculum aimed at the parents. "Family Camp" is a popular program at H-E-B's Laity Lodge in Leakey that uses coursework developed by Focus on the Family.
Eva Acevedo at the House of Faith heads that program here.
The six-week program helps parents learn and adopt Christian principles to run a family, no matter the family's makeup. The inaugural course of Parent University here attracted 45 parents who completed the program.
 "You live in a community where God is doing amazing things," Acevedo said.
House of Faith is growing in outreach, but its donor base has remained the same over the past few years, Reynolds said.
Is it working? Reynolds has 23 years of stories of many children who attended House of Faith programs who are now grown and have improved the family circumstances for their children.
For more information about the Christian, non-denominational House of Faith ministry, visit their website.
Get more stories like this by
signing up for our daily newsletter, The LIVE! Daily
.