The Matriarch of Permian Basin Logistics
MERTZON, TX — A hot oiler is a truck-mounted apparatus that pumps crude oil from a well, heats it, then filters out debris. Schlumberger calls the debris wax deposits from the upper wellbore section of wells. Hot oiler operators were in demand in the early 1970s when Esther Thorp told her husband Tom that she and the kids were finished moving around.
Tom Thorp was a highway and pipeline construction laborer in West Texas after getting out of the U.S. Navy. "He was pipelining, and we would move every three months. I'd have to pack everything up, get the kids moved out of school to a new one," Esther Thorp said.
"My little boys were in 3rd and 4th grade. And every time we'd move, we'd have to launder the Cub Scouts uniforms. And with tears in their eyes, the boys had to carry the uniforms back to the scout leader."
"I said, 'Tommy, we can't do this anymore. It's time to settle down,'" she said. So in about 1971, Tom and Esther Thorp, with three young boys, Jim, Wayne and Kevin, moved to the Thorp family land off U.S. 67 just northeast of Mertzon.
Times were tough. The young family procured an old mobile home to live in. Tom made do with work closer to home. That meant laboring in the oil field as a roughneck for hourly wages that never seemed to get the family ahead.
Esther is a military veteran, too. That is how she met the man she would be married to for over 52 years.
Back in the late 1950s, it wasn't easy for a woman to be in the military. "If a man had a minimum score, a woman's score requirement was 10 points higher," she said. Esther, enlisted in the U.S. Air Force, was assigned to the Military Air Transport Service (MATS) that was renamed the Military Airlift Command (MAC) in 1966. Her most memorable assignment was at Travis Air Force Base located between San Francisco and Sacramento, California. She dispatched the troops, assigning them to flights headed to Hawaii, Guam, and Japan—the Pacific Theater.
"Back then, the different services didn't trust each other, so we had an Army and Navy person also assigned to my section who performed the same job, except for their branch of service," she explained. One day, a striking young Navy Corpsman from Mertzon was transferred to work with her, and Esther admits she was smitten.
"Oh, my goodness! Look at this good-looking young man! And I was a young girl," she recalled.
Tom and Esther fell in love and decided to get married. Esther grew up in central Pennsylvania and it was too expensive for Tom's family to travel there for the wedding. "Oh, okay, we'll get married in Mertzon," Esther agreed.
Though the Thorp family, Tom's parents, owned a 175-acre spread off the Mertzon highway, life was rough for the young family. Esther said she was fine with Tom commuting to far-flung places to find work, but the young husband was adamant about finding work in Mertzon to stay closer to his wife and sons. "So, he worked in the oil field around Mertzon, doing anything they needed him to do," Esther said.
It didn't take long for the enterprising veteran couple to seize upon an idea.
"One day, an old man told Tommy, 'Oh, if I could just sell this truck, I'd retire. I'm too old to continue doing this kind of work,'" Esther said. She called her late husband "Tommy." Oral Thomas "Tom" Thorp died in 2010 at the age of 74.
The truck was a hot oiler; a service Tom thought was needed from a base of operations on the eastern edge of the Permian Basin where they lived.
"It was an old, old, old model truck and he wanted $25,000 for it. But we only had about $20," Esther said, matter-of-factly. The old man offered Tom an owner-finance deal. He wanted a $2,000 down payment and $250 per month until the balance was paid. The old man included on-the-job training for Tom in the deal.
"It was a truck that had burners, and you ran the fluid (crude) through the burners, and you melted the paraffin (wax) so it would settle in a discharge tank," Esther said. She knows the business.
Tom and especially Esther thought there was opportunity with that old hot oiler rig, but they needed money for the down payment. So Tom and Esther dressed up, drove down the highway to the Bank and Mertzon, and inquired about a loan.
The bank wouldn't even consider discussing a loan. She said they said, "We only handle ranchers. We don't deal with oil field folks."
Rejected, but not defeated, Esther investigated a Small Business Administration loan. No luck there, either. The government program wouldn't loan the Thorps the $2,000 they needed because the SBA wanted documentation that the couple had been turned down by at least three banks before applying.
Tom and Esther made it their mission to get two more banks to decline a loan. The quest was short-lived when the couple met a young banker who saw potential in the military veteran family.
"We went to see Pierce Miller at the San Angelo Central Bank. Pierce asked us, 'Well, what does this truck do?'" Esther said. Tom explained the business opportunity, and stated they needed just $2,000 for the down payment.
"How are you and your wife and kids going to live?" Esther said Miller asked. Esther told him, "We'll get by."
Miller gave the Thorps a loan for $4,000. The amount included an extra $2,000 to cover the 30- to 90-day accounts receivable the Thorps anticipated. That way, the family could buy groceries and pay for fuel and tires for the old hot oiler.
With cash in hand, Tom bought the truck. Esther, who was the bookkeeper for the start-up enterprise, recounts the expenses: "The truck ran on propane. Fuel was 10 cents per gallon. And we charged $15 per hour."
Choking up, Esther said at the end of the first month of operation, she knew she and Tom were on to something. Esther said, "We had made $1,700! I said, Tommy! 'We're going to be rich!'"
"I had never earned $1,700 that fast in my life!" she said.
At first, Tom and Esther were the only family members working for the business. Soon, however, their oldest son, Jim, joined his dad when he was just a tween. "Dad would set it up, and I'd run it all night long while dad slept in the cab," Jim Thorp said. Working all night soon took a toll on young Jim's classwork. He was frequently caught sleeping in class. In small, rural Irion County schools, the teachers understood, and worked around Jim's job. He graduated from high school in 1980.
Her oldest son's graduation came just in time for the oil boom of the 1980s. "Ooh! It went wild in the '80s," Esther said.
Tom and Esther leveraged their experience operating hot oil trucks and procured two more. One was second-hand, the other brand new, and Tom trained crews to operate them. The couple diversified into other logistics services for Permian Basin drillers, to include pumping and hauling water for oil well operations.
Oil wells will pump water up from the ground in addition to the oil. It's a natural phenomenon, but the water had to be taken out before the crude is sold. Thorp's water service pumps that water out of the well, and out of the crude. Then, a Tom Thorp truck hauls the water waste away in a tanker semi-trailer to dispose it elsewhere.
Water hauling works both ways, too. Sometimes, drilling operations need fresh water, or a large volume of chemical fluid for drilling. Thorp's trucks haul it from the source to the well locations.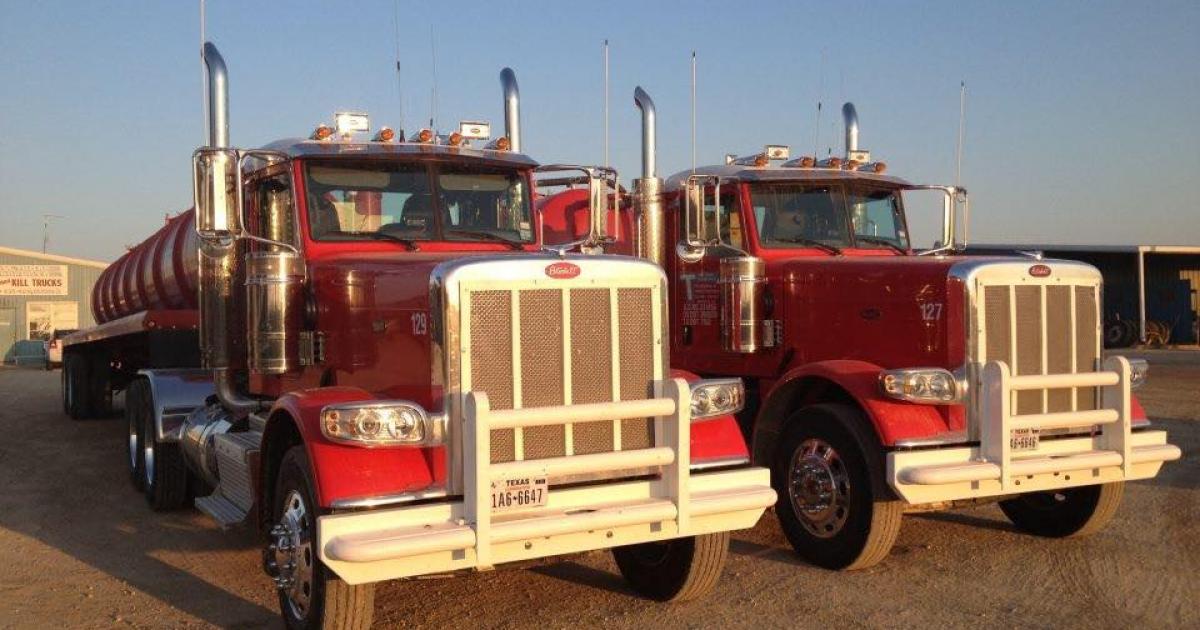 Above: Water trucks operated by Tom Thorp Transports today. (Tom Thorp Transports on Facebook)
Business was great until two accidents "burned two of the hot oiler trucks to the ground," Esther said.
By then, transporting water, the tanker operation, was already a large portion of the business.  Tom, whose own sons were working on the hot oilers too, saw a safety issue. Thorp ceased all hot oiler services after the accidents.
Today, hauling water and fluids for oil field operations remains a key component of the business. Thorp also transports heavy equipment to and from well locations. And the company builds roads to, in addition to construction services for, drilling locations.
Esther said her family's success was based upon teamwork of the entire family. But at the beginning, that dogged determination of the Thorps, to make a real living even while facing rejection, was forged in the military. The military has a way of allowing you to face very big challenges and succeed at solving them, she said.
Even today, when interviewing potential employees, Esther said the family recognizes if the applicant has a military background.
On the other hand, she said her husband saw his peers he knew all his life, and even his own brothers, not find success. "He said, 'I can't do that,'" Esther said. The experience the couple shared in the military during the height of the Cold War taught them, she said, "To Have no fear, you've seen far worse before."
"It's a certain attitude," she said. "It's knowing we can do this."
Saturday night, Esther sat on the back porch of her home located on that same 175-acre family spread with Tanya Tucker performing for Thorp employees, friends, and family from a stage there. Texas Country Music crooner Casey Donahew opened the show. Nearly 2,000 came out to celebrate the 45th anniversary of the company she and her husband bootstrapped with a $4,000 loan from a banker who believed they could make it.
Sitting in her lap was her great-granddaughter. She pointed at the offices of the headquarters for Tom Thorp Transports, with its red illuminated sign bearing its name, about 50 yards from her back porch.
"I just walk across my backyard to go to work," she said with a smile.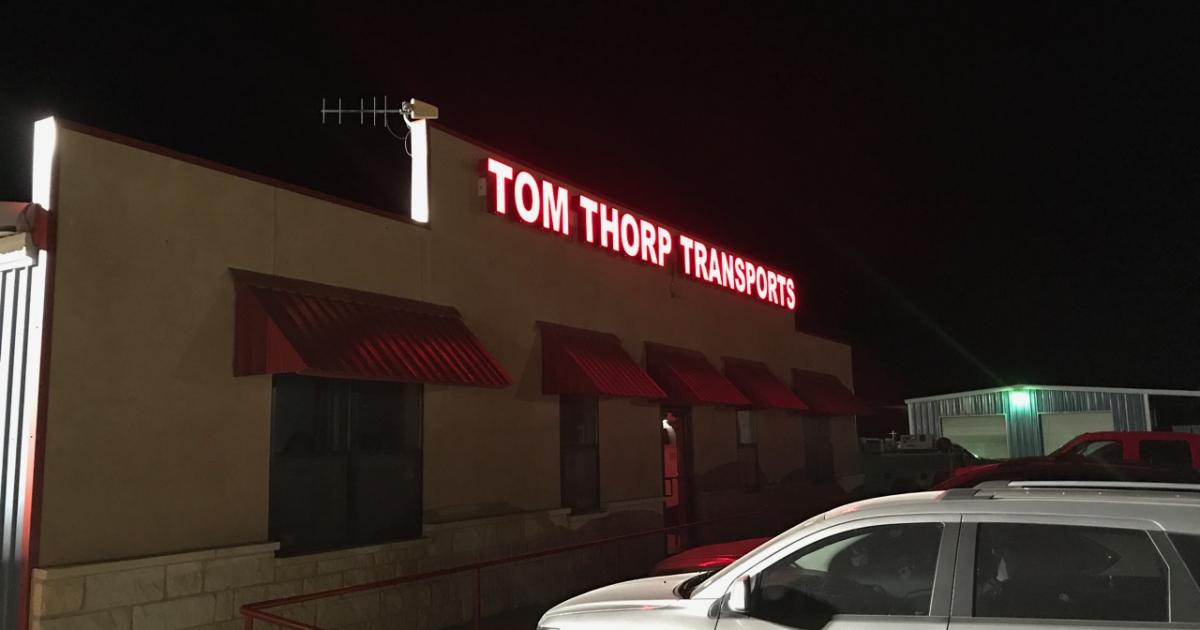 Above: The headquarters on Tom Thorp Transports. (LIVE! Photo/Joe Hyde)
Her three sons, Jim, Wayne, and Kevin manage their portion of the business, in addition to ranching interests. She said the family is set up for many generations into the future—as long as there's a need for oil field logistics and hauling equipment and water to well locations.
At 78, Esther isn't slowing down. She currently serves at the president of Tom Thorp Transports. "I write each and every check," she said.
Getting here was never easy, though. "At one time we owed $2 million," she said. "We ate a lot of beans."
Get more stories like this by
signing up for our daily newsletter, The LIVE! Daily
.