Farm to Table Event at The Angry Cactus-West Texas Bar & Grill a Huge Success
SAN ANGELO, TX— Last week, the Angry Cactus-West Texas Bar & Grill  located at 1 W Concho Avenue, held an event called 'Farm to Table.' Approximately 45 guests attended and were served a five-course meal while they visited with friends and family relaxing in the laid back fairly new establishment.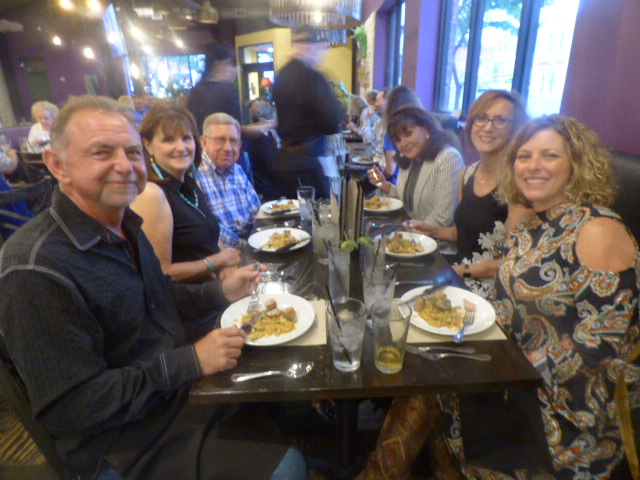 Executive Chef and Owner Tim Condon was pleased with the turnout and said, "We're going to try to do the Farm to Table events annually in the Spring and Fall."
San Angelo Physician Dr. Greg Dunham was one of the guests but was also a major contributor in the event. Dunham owns KST Organics located east of town on the Mereta Highway. "I supplied the majority of the vegetables that were in this meal and then there were some things needed for the ingredients that we can't grow in West Texas.  Other than that, we tried to make sure everything was sourced as locally as possible." 
Regarding 'Farm to Table,' Dunham continued, "Basically it's the idea of taking the ingredients straight from harvest to the table so that the patrons/customers, people who are enjoying the meal, are able to enjoy the freshest produce possible." He added that the goat and chicken meat also came from his farm and are raised on organic feed as well.
"The idea is to try and eliminate as many artificial things as possible. There's nothing inherently wrong with things to enhance production and minimize waste but on the other hand, there's a certain element of satisfaction of just taking what God provides and enjoying it," he said.
Above: A meal prepared with organic ingredients at The Angry Cactus.
For those interested in purchasing his products, he said he also sells through the local Farmers Market which started this past weekend in San Angelo. (click here)
He continued, he's been growing for over 20 years but actively involved in the organic process for the last 12 years. "I've been at Shannon Hospital for 30 years, so I don't have a lot of time to spend on the operation but do have a full time foreman.  He and I visit every morning on what the days tasks are and he's been with me for 20 years.  We just kind of have a group effort on what we're trying to make sure we put together the best we can."
As the crew in the kitchen prepared the menu items, they were then brought to a prep area towards the back of the main room. There, 5 chef's would then take their places in line and the magic of creativity began.  Condon would prepare the first plate with such an intense  attention to detail it was as if one were watching a world championship competition. Proud of his masterpiece, he raised his head for a moment smiling saying, "you're not going to find fine dining like this anywhere in San Angelo!"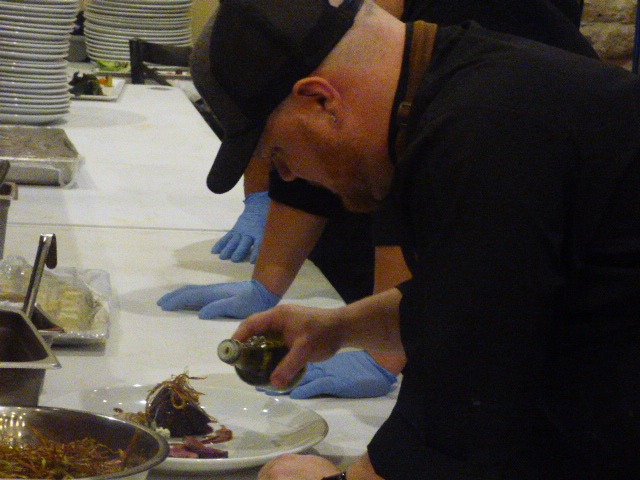 Above: Executive Chef Tim Condon drizzles Truffle Oil on Beef Tenderloin (LIVE! Photo/Holiday Bailey) 
Certified Chef Rico Flores  was one of the preparers and explained, "it's kind of like a conveyor belt where each person does something. It takes about 20 minutes for us to prepare each course and get it out to the guests." The well synchronized work crew functioned as if they had been together for eons, yet some were fairly new. Flores said he had "attended the Culinary Art Institute in San Antonio Texas for 2 years and was really enjoying his position at the AC."
The menu included a variety of non traditional items such as Roasted Boer Goat with Basil Spatzle, Goat Cheese, and Swiss Chard with Cranberry. As he used a large piping bag dabbing just enough but not too much along the sides of the plate, Condon said, "the Goat Cheese was actually made at the local Chicken Farm."
As staff was moving to and fro, accommodating the guests, each with their own assignments, one of the servers sat quietly to the side observing while he meticulously folded the napkins around the silverware. All of a sudden, Chef Condon motioned for him to come to the prep line. The expression on 20 year old Quenneil Brooks face was priceless.  Condon said, "this is what I want you to do." He then showed Brooks his new task in the line on a couple of plates and Brooks couldn't help but smile from ear to ear as well as everyone around him. "I've only been working here about a month," said Brooks. He said he had never done anything like this before but the pride showed through as he replicated the Executive Chef's creation. Brooks went on do a fine job as part of the team.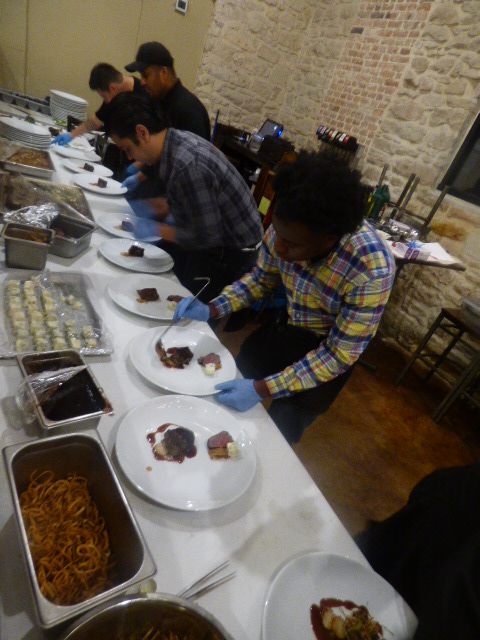 Above: Quenneil Brooks of San Angelo (Photo Holiday Bailey)
For the next course of 'Texas Beef-Wet Aged vs. Dry Aged,' Condon explained, he chose a prime cut beef tenderloin. "The whiskey dried meat is wrapped in cheesecloth, and has been sitting for 60 days in our cooler under the fans. There, it develops a black covering which I then cut off, re-season and cook. This is a wet aged beef so our customers will get to experience the difference between wet aged and dry aged meat."  He gave the example that if one were to order something like this in New York City, they might pay $100 a pound.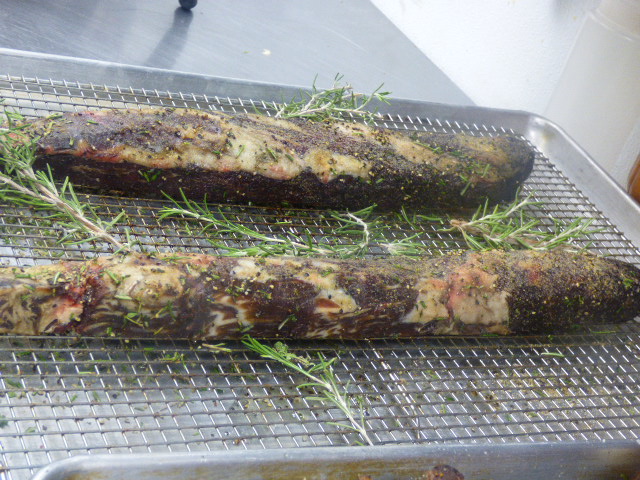 Above: Wet Aged Texas Beef Tenderloin (LIVE!Photo/Holiday Bailey)
Guest Brannon Grant of San Angelo, dining with his wife Sue, said it was their second time visiting the restaurant but their first time coming to a Farm to Table event.  He said, "I think it's excellent. San Angelo doesn't know the fire they have on their hands with this place. It's a top level cuisine but it's still works with the meat, cheese, and potatoes taste that is traditional to San Angelo so I think they'll end up doing really well.  It still hits the  carb levels but with a little bit of class." As they enjoyed the Chicken and Fennel Sausage , Egg pasta Carbonara, and House Smoked Bacon, he gave an example of the prior course. "With the fruit infused beets, and everything you bit into, it was a surprise cause you expected the traditional flavor. Instead of being met with bitterness, you experience sweet and citrus and then the texture along with the plating-it's really fancy-I really like it!"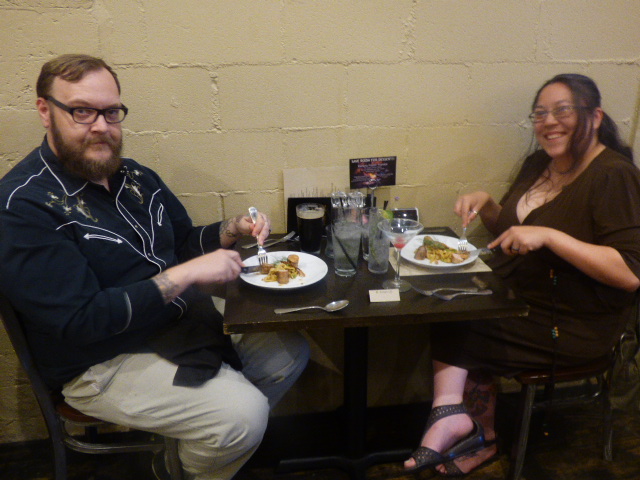 Above: Brannon and Sue Grant (Photo Holiday Bailey)
Overall, it was a sensational turnout, the food was exquisite, and all were satisfied. In between serving some of the plates, mingling with the guests and ensuring all ran like clockwork, Condon highlighted upcoming events.  "This weekend (May 14) we will be having our Mother's Day Buffet, next month we will be doing a Hawaiian Luau where we're doing all Hawaiian food, and then the next month were working on the finalizing of a Murder Mystery Dinner; a dinner theatre."
If you've never made the time to sit down, relax and thoroughly enjoy a meal comparable to those seen on major food network shows, look no further. The Angry Cactus-West Texas Bar & Grill is San Angelo's new hot spot and the 'go to' place! Also, take note, the items on this events menu are not on their everyday menu so follow them on Facebook and make sure to R.S.V.P when the next one posts as this one was sold out.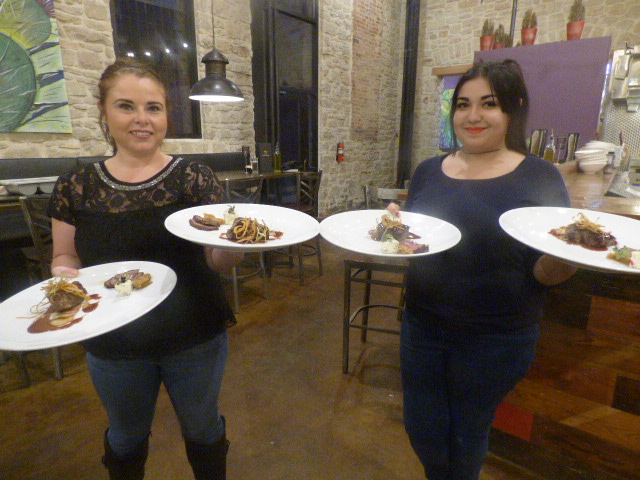 Above: Always service with a smile!  (LIVE! Photo/Holiday Bailey)
For more information, visit their website.
Get more stories like this by
signing up for our daily newsletter, The LIVE! Daily
.