Cane's Chicken Receives Warm Welcome from San Angelo Community
SAN ANGELO, TX - Raising Cane's Chicken Fingers' grand opening received a warm welcome this morning at its new San Angelo location at 1702 Knickerbocker Rd.
Members of the San Angelo Chamber of Commerce were present for the ribbon cutting and were thrilled to welcome Cane's into the community.
Trace Moring, General Manager for the San Angelo's Raising Cane's, could not contain his excitement for the new venture and expressed his many hopes for the store's future.
Moring has lived in San Angelo for the past 12 years, and when presented with the opportunity to work for Cane's, he immediately found his footing.
"I made the leap, and haven't looked back since," Moring exclaimed.
Given that most in San Angelo may have never been to Cane's before, Moring is most excited to reach out and encourage the community to try something new.
He noted that there are over 300 Cane's restaurants worldwide, but recognized that San Angelo's location was the first one in this part of Texas. Before today, the closest Cane's from San Angelo was a three hour drive away. San Angelo's location marks the 107th Cane's in Texas.
"We are looking to be the face for Cane's starting out in this direction, and we are happy they picked San Angelo," Moring said.
In the future, Morning added that he hopes for Cane's to host dine-in and dine-out fundraisers for local schools and to be active in the San Angelo community.
During the grand opening, Moring talked about Cane's community outreach event with Concho Valley Paws from last week and presented the organization with a $1,000 donation.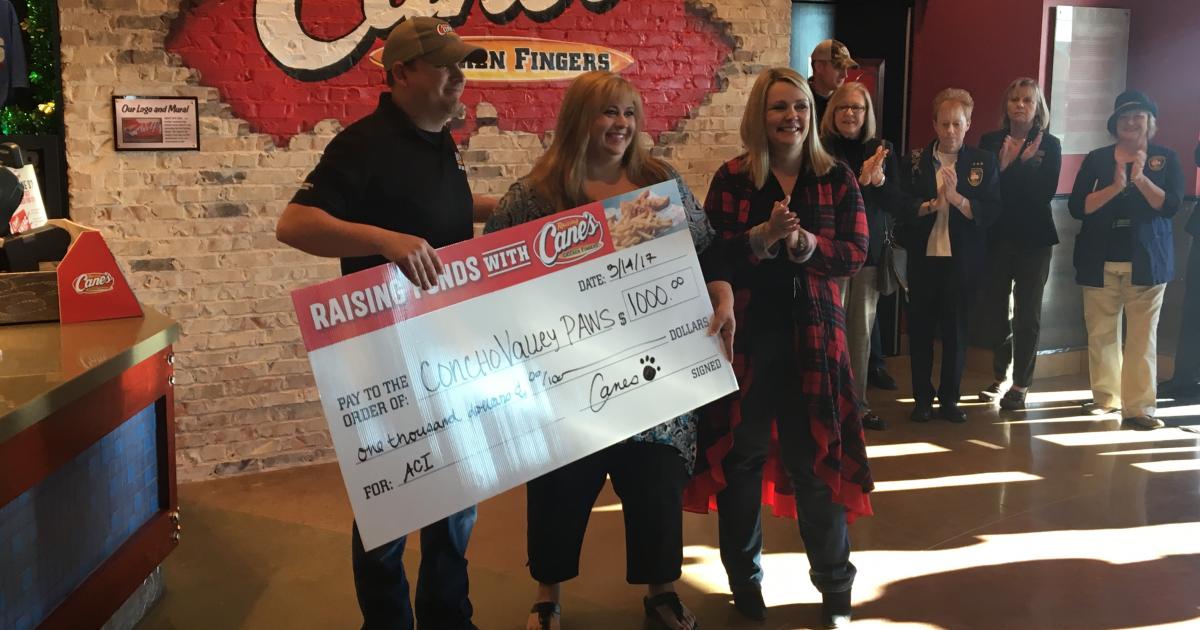 Today's ribbon cutting also awarded the first 20 customers in line with free Cane's Chicken for a year.
The first person in line, Angel Rodriguez, held his place since 11 p.m. on Sunday, and was excited to try out Cane's for the first time.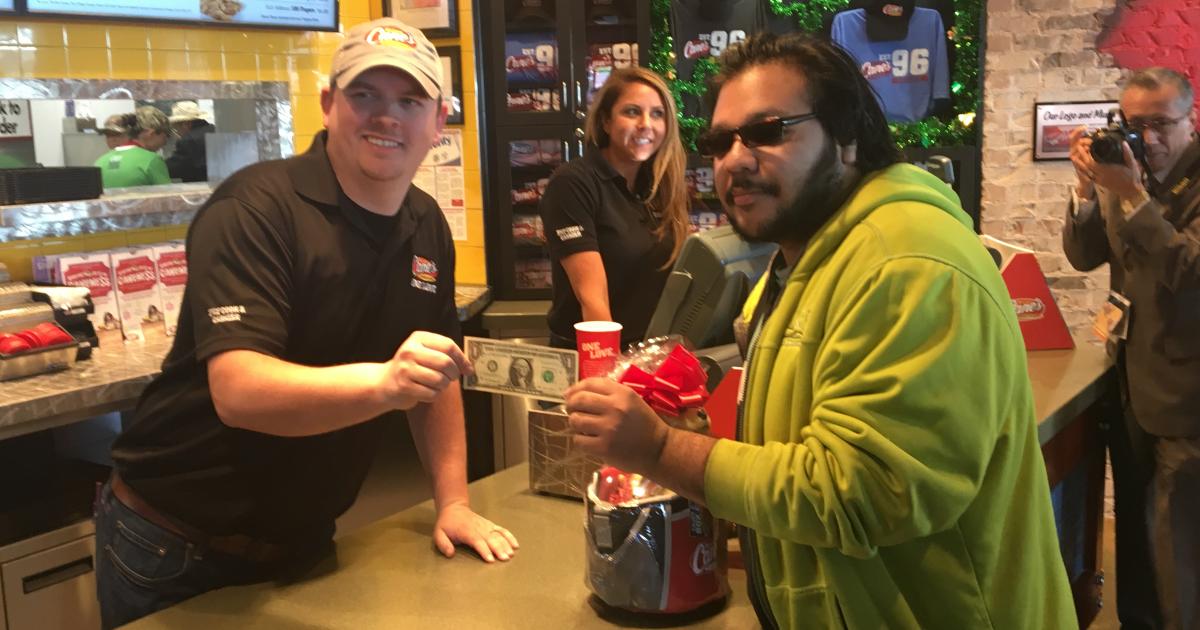 "I never tried it before today," Rodriguez said. "This is really good food!"
Cane's sells three, four, and six counts of its chicken tender combo. There is also an option to choose the chicken sandwich combo and a two-piece chicken finger meal for children.
Harry Thomas, City Councilman for Single Member District 3, gave his hopes for the franchise.
He said this location can help bring the community together, and added, that Cane's represents "the corner of chicken," as Knickerbocker Rd. also has Cane's, Chik-fil-A, and soon-to-be-open Bush's Chicken down the street, which is expected to start construction in the next few months.
Thomas also spoke of the 70 new employees who were hired by Cane's as a great opportunity to expand the San Angelo economy.
"This helps the economy and will help everybody in this particular area," Thomas said.
He added that having a nationally recognized organization in San Angelo helps bolster the economy. The San Angelo Chamber of Commerce continues to provide statistics for businesses to help monitor and predict their quarterly profit in the community. 
Cane's is open Friday-Saturday, 10 a.m. to 1 a.m., and Sunday-Thursday, 10 a.m. to 11 p.m. 
Get more stories like this by
signing up for our daily newsletter, The LIVE! Daily
.