Drainage Problems Along Foster Road Proves Difficult Task for City
SAN ANGELO, TX – Yesterday evening, the City of San Angelo sought the public's input on its Capital Improvement Plan Projects. The Capital Improvement Plan (CPI) prioritizes how the City should address large capital needs. About 40 residents attended the meeting, and the majority of them were not happy with one of the many engineering projects.  
Budget Manager Morgan Chegwidden, together with Assistant City Manager Michael Dane and SMD 5 City Council Member Lane Carter, hosted the two-hour long public forum. At the top of the 2017-2022 Capital Improvement Plan was a proposed construction fix to current drainage issues along Foster Road. Specifically, the proposed project is located on the stretch of Foster Road that passes through the Bentwood area near Butler Farms.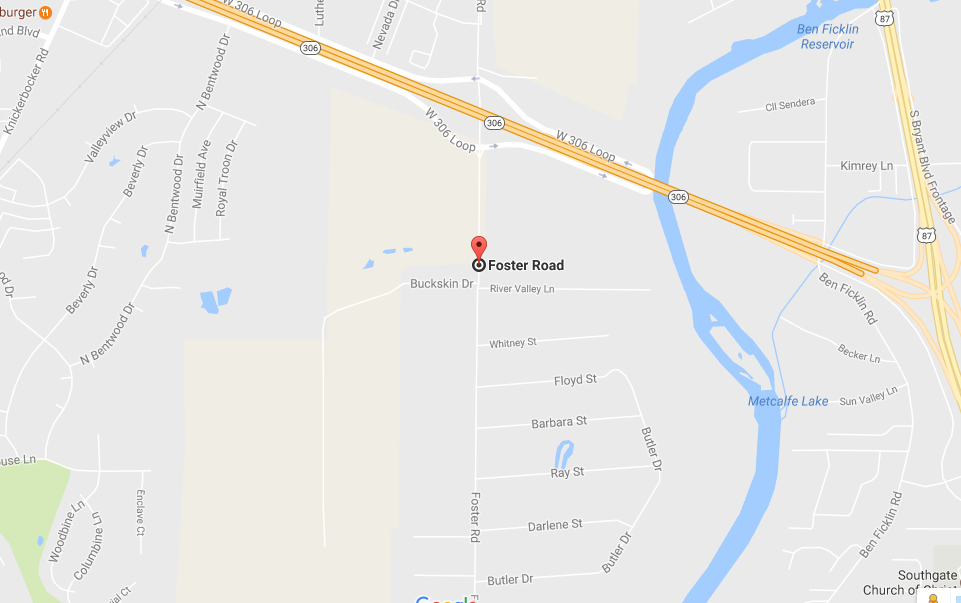 Above: Approximate location of the drainage problem located on Foster Road. 
Several Bentwood residents were in attendance yesterday evening, many of whom live on River Valley Lane, Whitney Street, and the surrounding area. Most of the residents voiced their concerns over trouble traveling after heavy rainfalls, as well as high property taxes despite no official fix to the ongoing problem.  
One attendee stated, "This is something that should have been taken care of three years ago, before another 40 houses went up and another five houses went up on Whitney St. That is a total of 18,000 gallons per inch, per house that is flooding my neighborhood." Frustrated, he added, "If the City Council doesn't pass this, our next step will be to go to a county judge."
Michael Dane attempted to relieve the high tensions by reassuring the attendees that the Foster Road project "has been the number one issue in this round of CIP this year by far." He added, "We'll have a meeting with Council [this] Thursday and we'll give [the City Council] an update."
Below are a few major investments the City plans to tackle sometime in the future as per the updated CPI:
Traffic Signal Replacement - $15,351,060
Purchase of Ford Ranch – $45,000,000
Airport Pavement Prioritization Plan and Taxiway Rehabilitation/Reconfiguration - $8,970,965
Fire Station #4 Reconstruction - $3,728,900
Furthermore, the 2017-2022 CPI shows a lot a park improvement projects with some ranging from $600,000 to $1,950,000 to $16,019,501. However, Chegwidden reminds the citizens of San Angelo that "the vast majority of those items are being funded by outside sources [e.g. grants, foundations funding]." Chegwidden further added that very little tax dollars were being used for the projected parks projects and underscored the value of parks in the community. 
"If we [just] build streets and waters for the next 10 years, and didn't do one thing to one park, [or] didn't build a new park, this would be a very sad place. We got to do both. We, of course, recognize [that] public safety, streets, water, and drainage [are] super important, but we can't ignore the other side of it [either]."
The current CPI does include projects not yet allocated for, but the City's charter states that the City cannot do a capital project if it is not in the plan.
For those who were not able to attend Tuesday's meeting, or would like to voice concerns about other CPI projects, Councilman Lane Carter encourages everyone to visit cosatx.us/CIPinput, or to connect with the council members personally. 
"The more emails and phone calls to [the City Council members], the better," he said.
Please visit here to see further proposed capital improvement projects and their prices. 
Get more stories like this by
signing up for our daily newsletter, The LIVE! Daily
.