Caron Transportation in San Angelo Banking on Oil Boom Resurgence
SAN ANGELO, TX — Tucked away on a quiet East San Angelo street is a new oilfield trucking company banking on a resurgence in production—another oil boom.  Caron Transportation Systems USA opened its doors in San Angelo just over a year ago with a fleet of 30 new sand hauling trucks. The local operation on Jackrabbit Trail near the intersection of S. Chadbourne and the Old Christoval Highway includes a 4-bay maintenance shop, an office and fueling station. 
Caron USA operations general manager Mike Root sat down with LIVE! Thursday morning to talk about the company and the resurgence in oilfield activity. Caron hauls sand from mines in Brady and Voca to a facility in Big Lake, and to well sites south of Midland.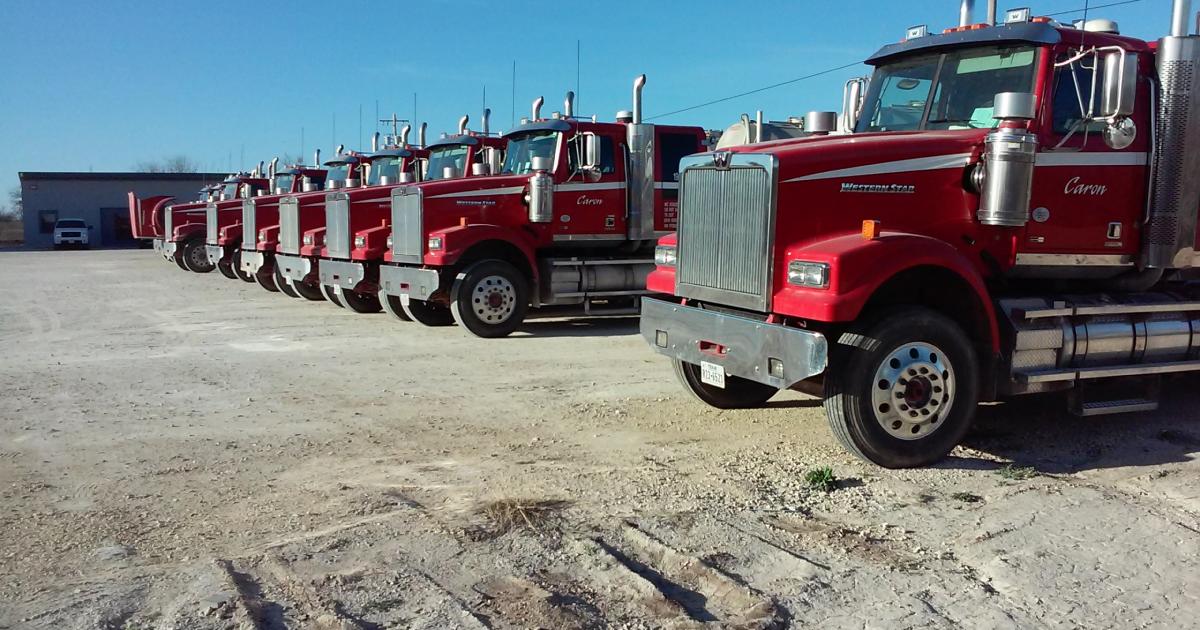 Above: A fleet of Caron Trucks, now based in San Angelo, Texas. (LIVE! Photo/Yantis Green)
"Caron picked San Angelo because of its location," said Root. "San Angelo is located between the sand mines and the well sites." 
Root said the company purchased its fleet of trucks new in 2015 and most maintenance is performed in house. Caron also purchases everything locally, including all parts and fuel. Its employees all live and work in San Angelo. 
Root also said sand hauling is a 24/7 operation; drivers leave San Angelo, drive to Brady, pick up a load and deliver it to the Big Lake facility or well site.  A typical workday is 6 to 7 hours, which Root is expecting to increase in 4 to 8 weeks.
"The workload will increase to two loads a day," he said. 
Root said he anticipates hiring another 20 drivers to meet the market driven demand. 
"The sand hauling business is toughest on drivers," said Root. "They are paid by the load and are 100 percent on call." 
Caron Transportation USA is owned by Bruno Muller, its parent company in Canada. 
"The owner genuinely cares about the people," continued Root, "and he understands the challenges because he worked every job in the oil industry." 
Root said Caron Transportation attempts to bring a touch of class to the oilfield. 
"We obey all the laws; all our trucks have GPS and electronic logs," he continued. "We will not sacrifice safety for anything."
One thing that sets Caron apart is technology. According to Root, Caron is the only carrier with automatic lids. The sand is top loaded into the trucks. Other companies' drivers have to climb up on their trucks to open the lids manually.    
"Safety is everything," Root said.   
Like all oilfield related businesses, Root keeps an eye on the price of oil. Caron Transportation and San Angelo are positioned to benefit from an increase in oil prices. With recent finds of oil in the Permian Basin, Root said it's just a matter of time before it's extracted.
"It truly is supply and demand," he concluded. 
Get more stories like this by
signing up for our daily newsletter, The LIVE! Daily
.