How and Why This Software Development Company is Expanding in San Angelo
Timeclock Plus by Data Management moved into a spacious 65,000 sq. ft. facility at the former Multi-Chem location, in the Sunset Crossing Shopping Center, 2905 Southwest Blvd Friday. The San Angelo Chamber of Commerce Concho Cadre, led by Laura Lewis, cut the ribbon on the new, remodeled facility with an imposing modern façade.
About 50 Chamber members and well-wishers attended the grand opening and ribbon cutting Friday afternoon.
Scott Turner, VP Sales and Marketing, said the company, founded in 1988 by Jorge Ellis, turns 28 this year. The company creates time management solutions for businesses large and small, and has a thriving business with government, particularly school districts across the nation.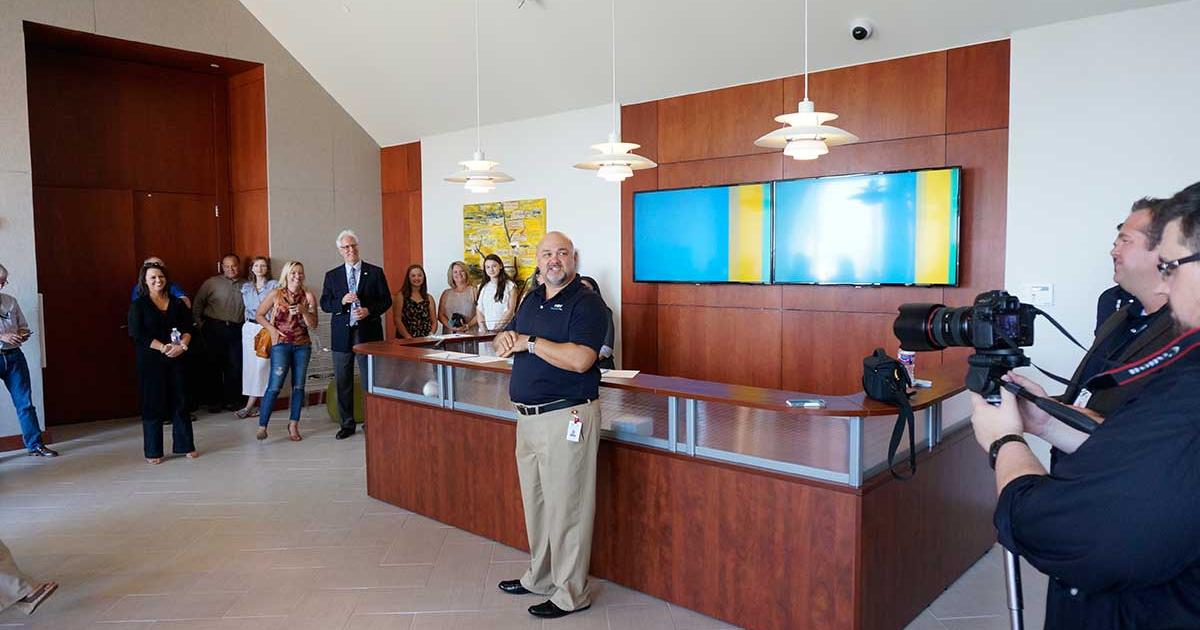 Above: Scott Turner, VP Sales and Marketing welcomes the Chamber of Commerce. (LIVE! Photo/Joe Hyde)
It's primarily a software development company with a narrow focus in creating ways for human resources departments to track hourly workers using computers, the cloud, servers, scanners, and mobile apps. In the old days, you'd recognize the time clock and the cardboard punch cards to "clock in" when reporting for work at an hourly job, but no more.
Timeclock Plus has ways to "clock in" using a fingerprint scanner, for example, that sends the time worked directly to the client's accounting software, like Quickbooks.
"About 90 percent of the solution is already built into the software and hardware," explained Trey Watts, a former coach at Wall High School. He heads Timeclock Plus's sales teams in the government sector. Timeclock Plus's implementation team will work with each new client individually to fit the software into their specific use case with customization options comprising of remaining 10 percent of the solution.
Jordy Moorman, president of Timeclock Plus, said every step of their product, from development to support after the sale, is handled in San Angelo, though they do have satellite offices in Irving and Austin. The decision to remain in San Angelo presents challenges, particularly with the recruitment of software developers, he said.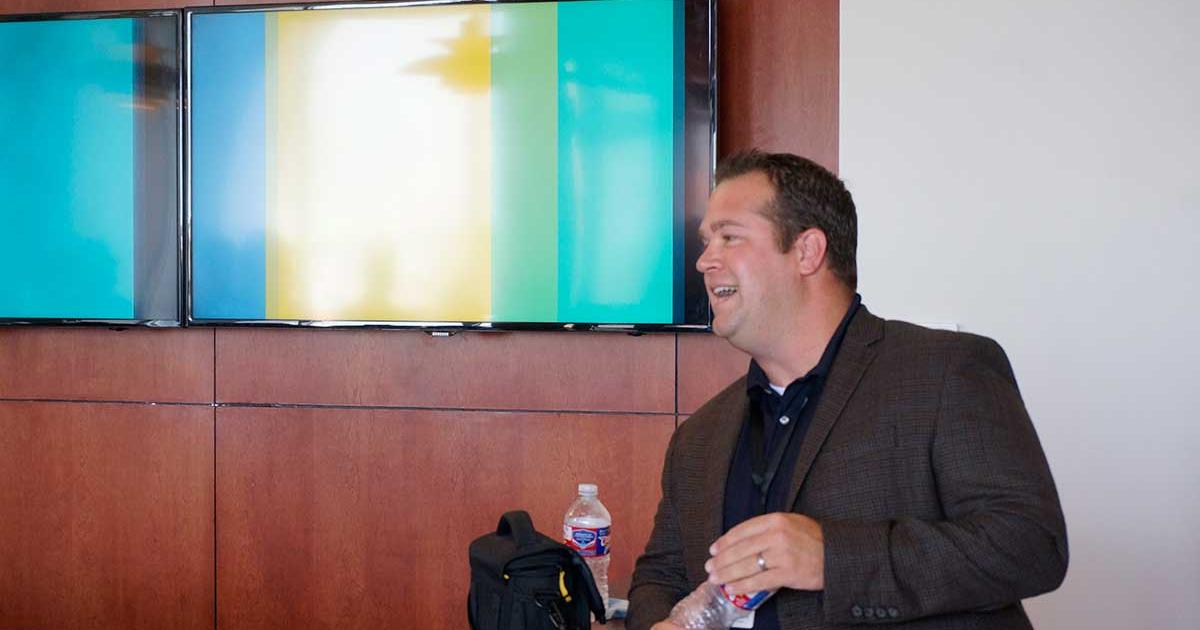 Above: Jordy Moorman, President of DMI. (LIVE! Photo/Joe Hyde)
Timeclock Plus is built on a platform using ASP.NET, Angular.JS, some Java, and Objective C for mobile apps. That the company has the ability to recruit and retain a cadre of developers with those skill sets in San Angelo is nothing short of amazing, Moorman said. He classified the capabilities of software developers in levels, where a "Level 5" developer is the most experienced and diverse software programmer.
He said he wants programmers capable of reaching Level 5.
Moorman added that in determining the company's future growth plans, the option of relocating to Austin, ground zero of software development and available coding talent, was discussed but eventually dismissed.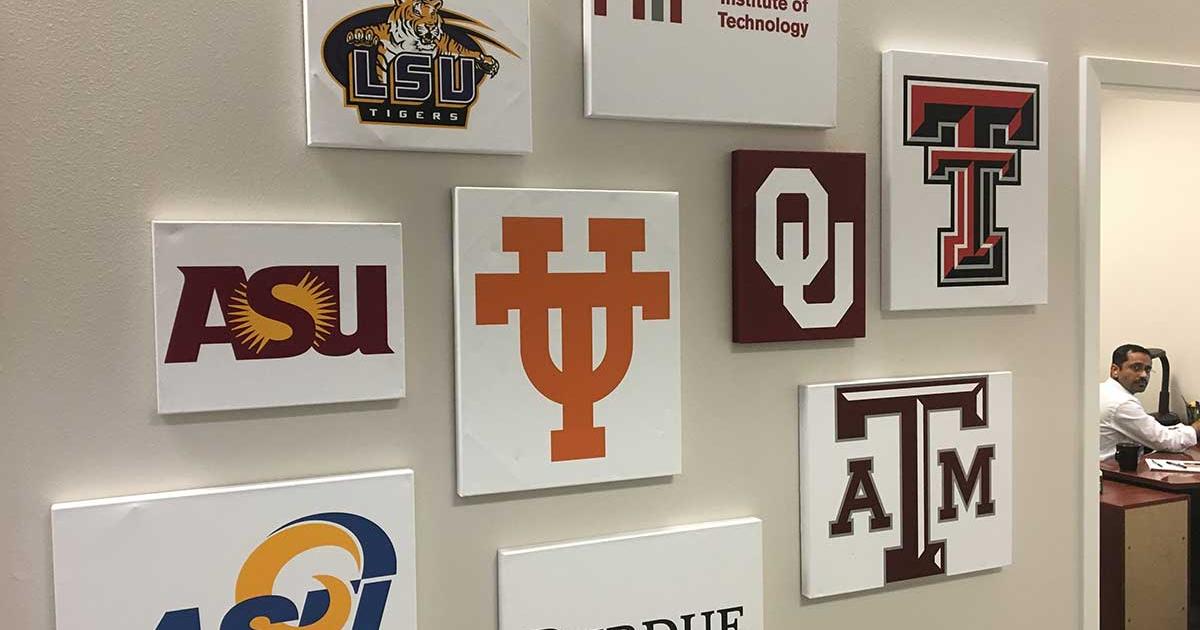 Above: The wall near the software development area that describes from where the team members went to school. (LIVE! Photo/Joe Hyde)
"They may have more developers available, but there is also much more competition from other companies for their talent," he said.
Deciding that competition for talent in Austin diminished Austin's attractiveness, Moorman and the executive team decided to make a run at building the software development team in San Angelo.
"What we've found is once we invite the candidate to San Angelo, they like the vibe, and the friendliness of the people here. They want to live here," he said.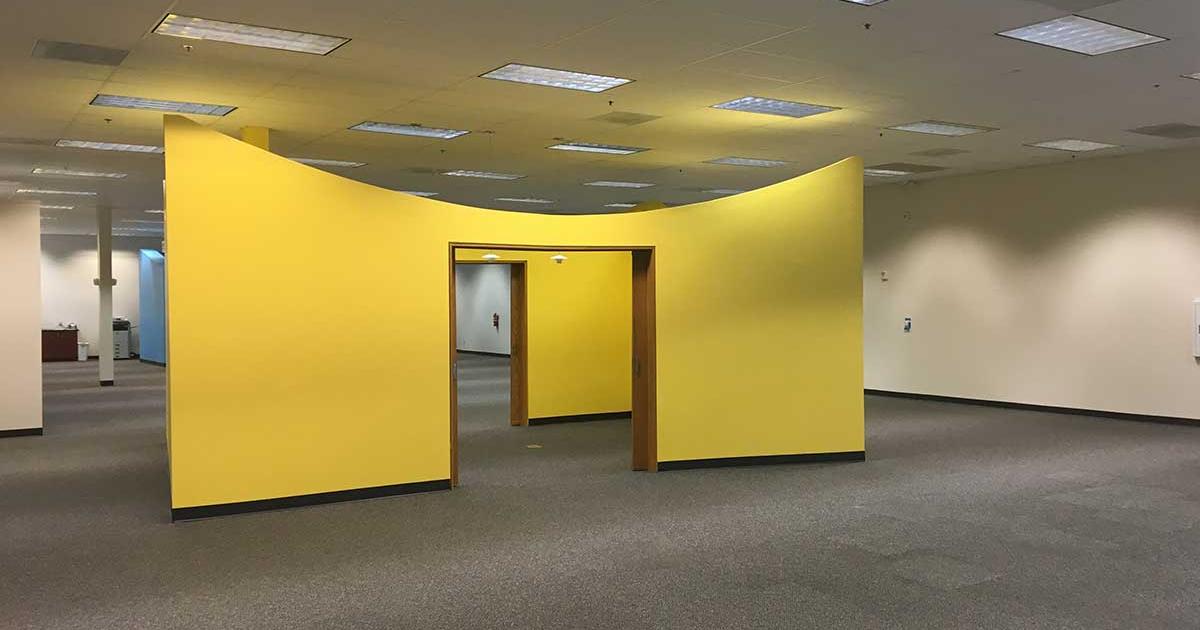 Above: Work spaces at DMI. (LIVE! Photo/Joe Hyde)
Moorman said he believes he can grow with the city, and turn San Angelo's amenities into a competitive advantage.
He has found success in recruiting recent graduates with computer science degrees not only from Angelo State University, but also from The University of Texas, Texas A&M, Texas Tech, and the outlying schools like UT in Arlington and North Texas State University.
Moorman is optimistic about his company's future prospects. "We came through the recession strong, and now it's time to experience some major growth," he said.
Get more stories like this by signing up for our daily newsletter, The LIVE! Daily.