San Angelo to Host Ports-to-Plains Conference in 2016
San Angelo will host the 19th Annual Ports-to-Plains Alliance Conference in September 2016 at the McNease Convention Center.
The Lubbock-based Ports-to-Plains Alliance is a community-driven coalition that advocates for a transportation infrastructure that will yield economic prosperity in a corridor that passes from Mexico to Canada and through San Angelo. Its membership is from a nine-state, 2,333-mile, rural swath of North America's energy and agricultural heartland, and includes municipalities, county governments, state and provincial officials, economic development corporations, business investors and chambers of commerce.
San Angelo is represented on the Ports-to-Plains Board of Directors by City Councilwoman Charlotte Farmer. Farmer has also served on the Southern Work Group Task Force, promoting San Angelo as a logical center for rail and truck products passing between Mexico City and Edmonton, Alberta, Canada. She has acted as a liaison between the alliance and various state and federal officials on problems incurred during the transfer of products through states and countries.
Below: The Ports-to-Plains highway system: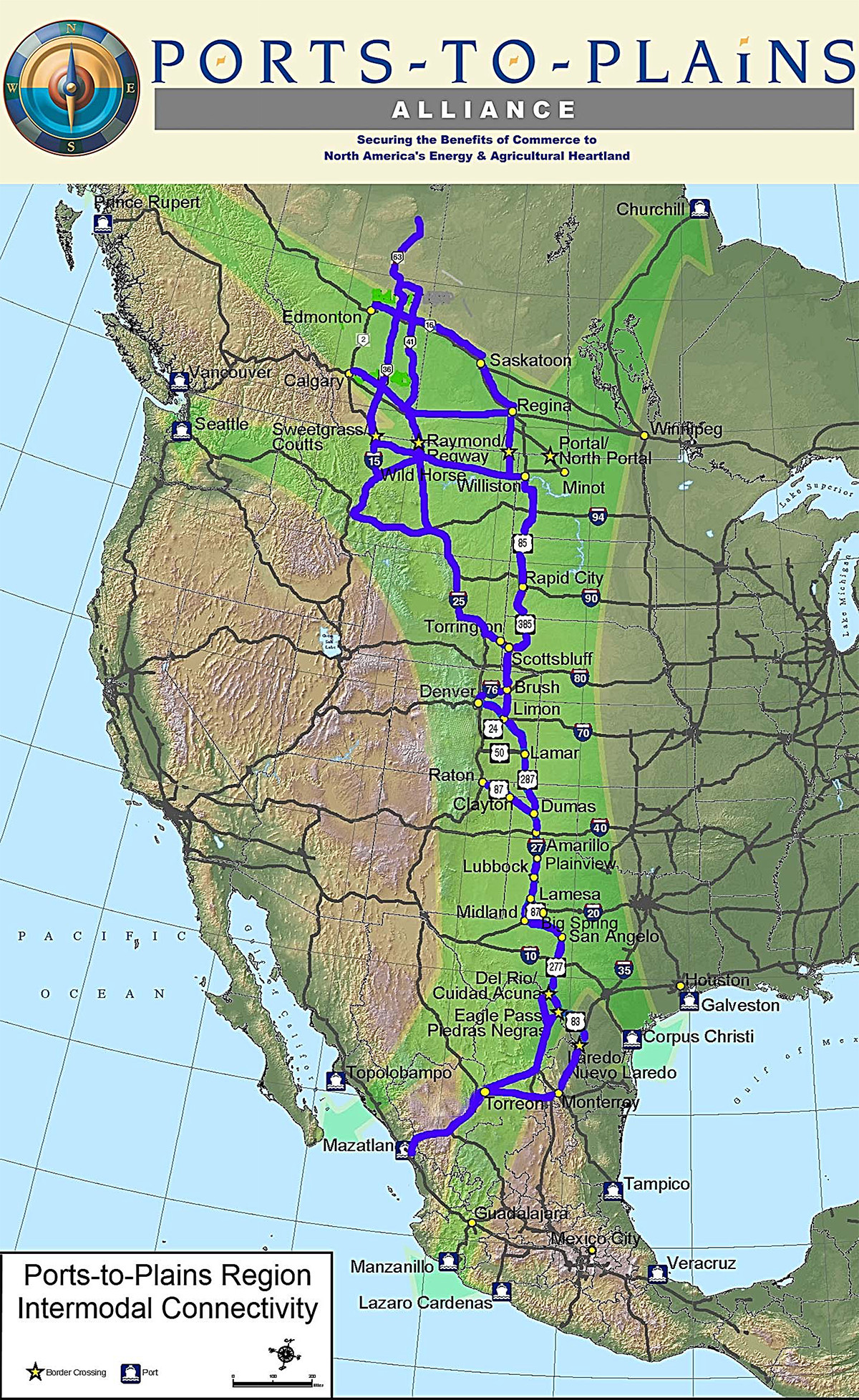 Farmer will attend the 18th annual conference in Williston, North Dakota, Oct. 6-8.
Next year's conference in San Angelo will kick off with an opening reception on Tuesday, Sept. 13. Conference sessions on Wednesday, Sept. 14, will feature expert speakers addressing transportation and economic development issues from throughout the Ports-to-Plains region. Sessions will resume on Thursday, Sept. 15, the conference's final day.
All events are open to the public. Early registration will be available in July 2016.
"Ports-to-Plains was in San Angelo for its 14th Annual Conference in 2011, and it was a well-attended, informative and fun-filled event," said Duffy Hinkle, vice president of membership and marketing for the Ports-to-Plains Alliance. "I expect the 2016 conference will be just as good, if not better!
Get more stories like this by signing up for our daily newsletter, The LIVE! Daily.