Dates

Oct 31, 1935 Nov 16, 2023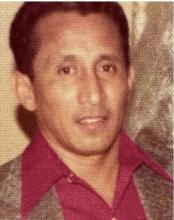 Rudolph Rudy "Shorty" Ybarra, 88, of San Angelo passed away Thursday, November 16, 2023, at his home surrounded by his loving family.

Public viewing will be from 10:00 AM until 8:00 PM with the rosary being prayed at 6:00 PM Monday, November 20, 2023, at Robert Massie Riverside Chapel. Mass will be at 10:00 AM Tuesday, November 21, 2023, at St. Mary's Catholic Church with Ft. Joey Faylona, officiating.

Rudy Ybarra was born October 31, 1935 in Castroville, TX to Emilio and Eduarda Ybarra. Rudy has been a resident of San Angelo since 1963. He worked as a butcher at Handy Packing, where he retired. Rudy was a member of the Sacred Heart Catholic Church. He enjoyed fishing, music & dancing. He also had a passion for baseball. Rudy loved watching his favorite football team, the San Francisco 49ers, and all University of Texas Longhorns sports. He will be remembered as the "Pit Master" for his delicious BBQ and homemade sauce.

Survivors include his wife Janie Ybarra of San Angelo; two daughters, Irma Hernandez and husband Steve of San Angelo, and Annette Diggs and husband David of San Antonio; a brother, Andy Ybarra of Natalia, Tx; seven grandchildren, Monica, Amanda, Jeremy, Erica, David, Damarian, and Brandon; 12 great grandchildren. Rudolph was preceded in death by his parents; a son, Jimmy Ybarra in 2017; and four sisters, Helen Sepeda, Pauline Lara, Alicia Aguirre, and Lucia Lara.

Pallbearers will be Jeremy Ybarra, Brandon DeHoyos, David Diggs, Steve Hernandez, Eddie Lopez, and Kashton Vara.

The family would like to give a special thank you to High Plains Senior Care Hospice staff, Nurse Britni, Nurse Paige, and Aide Stephanie, for being so supportive and taking such great care of our grandpa, dad, and husband.
Write Your Tribute