Dates

Feb 11, 1945 Sep 22, 2023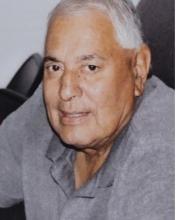 Willie Gonzales, 78, passed away Friday, September 22, 2023, in San Angelo.

Public viewing will be from 1:00 PM until 8:00 PM with the Rosary being prayed at 6:00 PM Sunday, September 24, 2023, at Robert Massie Riverside Chapel. Mass will be at 10:00 AM Monday, September 25, 2023, at Holy Family Catholic Church in Mereta with Father Joe Choutapalli, officiating. Burial will follow at Mereta-Eola Catholic Church under the direction of Robert Massie Funeral Home

Mr. Gonzales was born February 11, 1945 in Eden to Theodore and Lupe Gonzales. Willie was baptized as a Catholic. Willie had been a resident of Denver City for 36 years and after retirement he lived in the Paint Rock and Mereta area. Willie worked as a laborer in the oil and gas industry in Denver City. Willie liked working in the yard, eating home-cooked meals, and watching westerns.

Survivors include five brothers, Carlos Gonzales and wife Amelia, Peter Gonzales and wife Soila, Joe Gonzales and wife Dee, Henry Gonzales and wife Inez, and Edward Gonzales and wife Linda all of San Angelo; three sisters, Yolanda Gonzales of Austin, Sylvia Moreno, and Alicia Gonzales both of Mereta. Willie was preceded in death by his parents; four brothers, Theodore Gonzales, Jr., Robert Gonzales, Arturo Gonzales, and Roy Gonzales; and a sister, Olivia Gonzales.
Write Your Tribute