Dates

Nov 29, 1965 Sep 20, 2023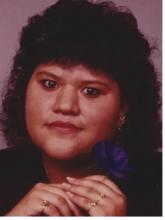 Deborah Jean Luna, 57, of San Angelo went to be with the Lord on Wednesday, September 20 2023, in San Angelo surrounded by her loving family. Deborah was born November 29, 1965, in San Angelo Texas to Catarino Luna, Jr. and Janelle Guzman Luna. She grew up in San Angelo and attended Lakeview High School. Deborah started working at an early age at the San Angelo State Supported Living Center as a direct support provider where she worked over 20 years retiring in 2011. She then went into home health care and worked as a caregiver for many years. Deborah married Frederick Leon Allen Slaughter in San Angelo, Texas and they shared many beautiful years together. She was a loving daughter, wife, mother, and grandmother who devoted her life to her family.
Debbie was a vibrant and lively individual who loved driving around, blasting her music with Molly on her shoulder. She could have everyone laughing in minutes with her contagious laugh and her funny jokes. She loved spending her free time at the game rooms gambling with her friends enjoying life.
Deborah was preceded in death by her parents and her husband Frederick. She is survived by her daughter Audry Govea and her husband Gerardo, and her son, Anthony Allen; 6 grandchildren Maya, Cat, Mica, Gabriel Jr, Josiah Allen and Mateo Allen; One sister, Diane Blanchard and her husband Jerry, all of San Angelo. Debbie leaves numerous aunts, uncles, nieces, cousins and her special fur baby Molly to mourn her passing. The family will receive friends for visitation at 5:00 P.M., Saturday, September 23, 2023, at Harper Funeral Home, followed by a memorial service starting at 6:00 P.M.
Family and Friends may share condolences and sign the online register book at http://www.harper- funeral home.com.
Write Your Tribute