Dates

Jun 08, 1941 Sep 19, 2023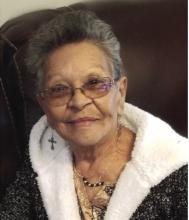 Sylvia M. Grimaldo, 82, passed away at her home surrounded by her loving family on Tuesday, September 19, 2023.

Family will receive friends from 4:00 PM to 6:00 PM with a prayer service at 6:00 PM, on Thursday, September 21, 2023 at Robert Massie Riverside Chapel under the direction of Robert Massie Funeral Home.

Mrs. Grimaldo was born June 8, 1941 in San Angelo to Melquiades, Sr. and Rumalda Minjarez, where she was a lifelong resident. Sylvia married Jesse Grimaldo in April of 1980. He preceded her in death on June 6, 2016. She was a caregiver for many years, working at various places here in San Angelo. She enjoyed walking, the outdoors, and she was a very sociable person. Sylvia loved listening to music and cooking, she always had coffee and cookies available in her home. She was a loving mother and was loved by many.

Survivors include her two daughters, Debra Rodriguez and Sandra Gonzales both of San Angelo; three sons, Richard Galindo, Tito Galindo, Jr., and Anthony Galindo all of San Angelo; a special grandson that she considered her own, Jason Galindo of San Angelo; five sisters, Albessa Minjarez, Alicia Bastardo and husband Armando, Tomesa Regino and husband Alberto, Anna Hernandez, and Terrie Lynn Minarez-Narducci all of San Angelo; a brother, Melquiades Joe Minjarez, Jr. and wife Yolanda of San Anglo; a brother-in-law, Raymond Torres, Sr. of San Angelo; 14 grandchildren; 40 great grandchildren; 6 great-great grandchildren; numerous nieces and nephews, all of whom loved her dearly. Sylvia was preceded in death by her parents; a sister, Helen Torres; and a brother and sister-in-law, Joe and Adela Trevino.

The family would like to say thank you to Hospice of San Angelo, her nurses; Laura and Debbie, her caseworker, Alicia, and a very special thank you to Joe and Yolanda Minjarez, all 5 sisters and all the nieces for their loving care for Sylvia.
Write Your Tribute