Dates

Mar 27, 1948 Sep 17, 2023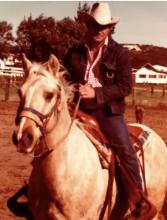 Novice Joe Moore, 75, passed away on 17 September 2023, in San Angelo, Texas. He was born in Dayton, Texas on March 27, 1948 to Wayne and Lois Moore. A cowboy at heart, he worked with his Uncle Blackie's longhorns and in their rice fields. He drove across Houston at 14 working for a gas station and building hot rods. In his spare time, he attended high school. After graduation, he joined the Air Force, trained, and then traveled to Libya.
Returning from Libya, Joe was stationed at Tyndall AFB in Panama City, Florida. There he met, Ginger Lee Rich, and married her on 14 June 1969 in the Tyndall AFB Chapel, surrounded by family. His first son, Novice Joe Moore Jr, was born in 1970 in Florida. Then he received orders to Wright Patterson, where his second son, Christopher Frederick was born. Carswell AFB in Ft Worth was his next assignment and where his third son, Russell Wayne was born, finally a Texan! Then on to Hellenikon AFB in Athens, Greece for 3 years, where we travelled, camped on the beach, and fished in the mountains. Returning to the US, Joe launched missiles, rode his beloved horses at the saddle club, and watched the boys play Little League at Vandenberg AFB, California. On September 1, 1986, Joe retired from the Air Force and moved to San Angelo, Texas.
Joe attended ASU and graduated on December 15, 1989 with a BS degree in Animal Science and Management. Although he raised sheep, Joe focused back on his electronics and worked for Western which was later BJ Services. Joe would return to California each May for 14 years to help with the Rancheros Vistadores. His greatest thrill was to meet some of his heroes there, especially Roy Rogers and James Gardner. Joe also was an observer for Bassmaster Tournaments, and met and rode with some of the great bass fisherman. He attended Red Stegall's Cowboy Gatherings in Ft Worth, followed and collected Astros and Oilers items, was an Elmer Kenton fan with autographed books from the Cactus Book Shop, and collected old cars and tractors. A Kerrville Elk Lodge #2081 member, a continued ENF Donor, a NRA Golden Eagle, a Life Member of the North American Fishing Club and Texas State Rifle Association, and a Wounded Warriors monthly donor were just some of his causes.
Joe is survived by his wife of 54 years, Ginger (Rich) Moore, of San Angelo, his sons, Novice Joe Moore Jr (Kristine) of Greenville, South Carolina, Lt Col Christopher Moore, Ret of Athens, Alabama, and Russell Wayne Moore (Brittany) of San Angelo. His granddaughters are Samantha (Brandon), Triniti, Maci (Garrett), McKenna (Andrew), Avery, Haven, and Taylor Rose. His grandsons are Mark, Cole, Gavin, Aidan, Asa, Maverick, and Jacob. Joe's brothers are Michael Moore and wife Sandra of Houston, Tom Moore and wife Anne of Bellaire, Fred Moore of Dayton, and numerous nieces and nephews. He was preceded in death by his parents, Wayne and Lois Moore of Dayton, Texas.
The family wishes to thank the staff of Brayden Park and Solaris Hospice for the love and care that they lavished on Joe.
A visitation will take place on Friday, November 17, 2023 from 5:00 to 7:00 PM at Harper Funeral Home. There will be a family reunion and graveside service at Lawnhaven Memorial Gardens on Saturday, November 18, 2023 at 1:00 PM. 
There will be 2 more Moore babies by that time!
Willie Nelson said it best, "His heroes have always been cowboys, always alone, and don't understand him; he'll probably just ride away."
Family and friends may share online condolences at www.harper-funeralhome.com.
Write Your Tribute