Dates

Jan 12, 1947 Sep 10, 2023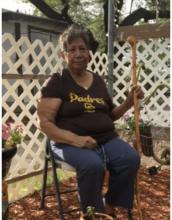 Juanita (Janie) Hernandez Valdez entered the hands of his Lord and Savior on Sunday, September 10, 2023. She was a loving daughter, mother, nana, great-nana, aunt, sister and friend.
She is survived by her loving children: Monica Valdez, Efrain III, & Jordan; Victoria (Ernesto) Sanchez, Krystina & Nikales; Joshua Valdez, Yesenia Kat; Eduardo Valdez; Efrain Nava II; Granddaughters: Genesis, Seryn, Morgan, Angelina & Erin Ann Mansanalez. Great Grandson: Xavier Psalm Mansanalez; Sisters: Mary, Rita, Gloria, Rosie, Lucy, Diana & Norma; Brother: Carlos; Uncle: Ramon (Maria) Lucio.
She is preceded by: Grandmother Gabriella Chapa Lucio; Parents: Miguel & Victoria Hernandez; Son: Steven Mansanalez; Sister: Dora Ortiz; Brothers: Roy & Arthur Hernandez; Nephews: James Jr & Robert Baca.
Juanita was born in Robstown, TX, to Miguel (Mike) Hernandez & Victoria Lucio Hernandez. Her childhood was spent in Robstown, TX, with a brief time in Arizona and Porterville, CA. In 1960, her father moved the family to Gridley, CA, where she spent many years. In 1973, Janie started her journey through central California and landed in beautiful Oceanside, CA, where she planted her roots and raised her five children on her own. In 2006, her eldest son Steve moved her to Christoval, Texas.
Janie was a hard worker; she held two jobs while attending college and raising her five children on her own. She loaded her kids up in her "Hulk" green wagon, ventured on many summer vacations, camping trips to beaches, the Grand Canyon, KOA's and trips to Texas to visit her Grandmother Gabriella and much more.
Janie adored her grandchildren, loved quilting, watering her garden & was extremely faithful to the Catholic Religion. She taught catechism at the San Luis Rey Mission, St. Martha's Church and The Immaculate Conception Mission for many years. She deeply loved her Padres and Chargers and always wore jerseys with pride.
Texas Family & Friends, please join us for a memorial service to celebrate the life of Juanita on September 30, 2023, at the Immaculate Conception Mission Church, 12264 W Torres Rd, Christoval, TX @ 11:00 AM - reception to follow.
California Family & Friends, please join us for a memorial service to celebrate the life of Juanita and her son, Steven Mansanalez, who perished on October 10, 2020. We will gather together on, October 27, 2023 at The Oceanside Mortuary, 602 S Coast Hwy, Oceanside, CA at 10:00 AM, tribute to Janie. Rosary & Mass tribute to Janie & Steve at 1:00 PM, Mission San Luis Rey 4050 Mission Ave, Oceanside, CA. Rosary: Gloria Hernandez-Mize. Eucharist Minister: Augie Agado. Reception to follow.
Write Your Tribute