Dates

Jan 31, 1938 May 25, 2023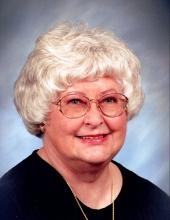 Jannett McDuff Miers passed peacefully in her home on May 25, 2023 at the age of 85 to be with her Lord and Savior.
Jannett was born on January 31, 1938 in Stamford, Texas to T.C. "Speck" and Lucille McDuff. Jannett graduated from Anson High School in 1956 and attended Draughn's Business College in Abilene, graduating in 1957.
On March 8, 1968, Jannett married the love of her life, Harold Miers. They were married for 52 years before his passing in 2020.
She pursued a 30 year career as a Customer Service Engineer with General Telephone & Electronics Company (GTE) until taking an early retirement in 1989.
Jannett enjoyed gardening, shopping, fishing, listening to country music, dancing, as well as spending time with her family.
Jannett is preceded in death by her husband, parents, and sister, Lanell McDuff.
Jannett is survived by a daughter, Jamie Martin and husband David of San Angelo, a son Billy Anders of San Angelo, a step-son Lloyd White and wife Kim of
Bedford and a step-daughter Michele Montgomery of Lewisville. She is also survived by grandchildren; Taryn Anders Peek, Dustin Martin, Ashlea Martin, Taylor White, Matthew White and Erin Veale as well as great-children, especially frequent visits full of laughter with her great-grandson, Cody Peek.
Our family would like to thank the following for providing continuing care: John Harvey M.D., Rene Ragucci and Mari Crespo.
A visitation will be held on Monday May, 29, 2023 at Harper Funeral Home from 5:00 to 7:00 PM. A funeral service will be held Tuesday May 30, 2023 at Harper Funeral Home at 12:00 PM with burial to follow at Lawnhaven Memorial Gardens.
In lieu of flowers, the family would be honored to have a donation sent in Jannett's name to Hospice of Ballinger or Meals for the Elderly.
Write Your Tribute