Dates

Dec 13, 1929 May 20, 2023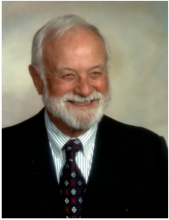 Jim Ridge finally won his battle with dementia at the age of 93. He passed away on May 20, 2023 at his residence on Dove Creek surrounded by loved ones. During his years in San Angelo, he served on the City Council as Mayor Pro Tem and was the founding Executive Director of the Concho Valley Council of Governments and first Chairman of the Texas Association of Regional Councils. He was an active member of the First United Methodist Church of San Angelo. His was a life of service.
Jim was born December 13, 1929, in Benton Ridge, Ohio, to D.E and Ruth (Freed) Ridge at home in a blizzard. He attended Findlay College and graduated from Bowling Green State University, where he was a proud member of the Delta Tau Delta fraternity. Following college, he joined the Air Force, where he was commissioned a Second Lieutenant and was eventually stationed at Goodfellow as the supervising officer for the Office of Special Investigation. He arrived in San Angelo on May 3rd of 1953.
While at Goodfellow, he was introduced to Anne Bryant Allen. The two were married on April 30, 1955. He later adopted her two children Douglas Bryant and Martha Jane. He and Anne went on to have two children, Rebecca Anne and James F., Jr. After the Air Force, Jim worked for IBM and Merrill Lynch in Ohio and Houston, but eventually returned to San Angelo. He was a rancher for many years on the Bryant Ranch at Tankersley.
Among his many hobbies, Jim was an accomplished outdoorsman and enjoyed several hunting and photo safaris to East Africa. He also traveled to several countries in Europe and to China. His eyes would twinkle while he told of stalking leopard in the Kalahari or hunting elk in Colorado.
He was preceded in death by his parents, by his former wife Anne Bryant Watkins, by his grandson Andrew Douglas Ridge, by his sister Mary Ellen Budd, and by brothers Robert Warren Ridge and Max Wayne Ridge. He is survived by his loving partner of 28 years, Christine K. Wells, by his children Doug (Cindy) of Austin, Jane Austin (Tom), Rebecca Anne Ridge and James F. Ridge Jr. (Carolyn McEnrue), all of San Angelo. He is also survived by two granddaughters, Rachael Anne Snyder of Norfolk, Virginia, and Annabret McKibbin of San Angelo, and by his sister Margaret (Peg) Elaine Ridge Stuckey of Centerville, Ohio.
Visitation will be at Harper Funeral home Thursday, May 25, from 5-7 PM. Graveside services will be at Fairmount Cemetery Friday, May 26, at 11 AM.
Special thanks for the invaluable help and caring go out to Yami Franco, Gentiva Hospice, and the Dove Creek Volunteer Fire Department.
In lieu of flowers, please consider a charitable donation to Dove Creek Volunteer Fire Department (11191 Northcross Ln, San Angelo, TX 76904), Ambleside Concho Valley (207 N. Main, San Angelo, 76903), or The Adult Literacy Council (59 E. 6th St, San Angelo, TX 76903), or to a charity of your choice.
Visitation
Thursday, May 25, 2023
5:00PM - 7:00PM
Harper Funeral Home 
2606 Southland Boulevard 
San Angelo, TX 76904
Graveside
Friday, May 26, 2023
11:00AM
Fairmount Cemetery 
1120 W. Ave. N 
San Angelo, TX 76901
Write Your Tribute