Dates

Sep 11, 1926 Mar 12, 2023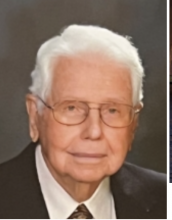 "Born September 11, 1926 in Chriesman, Texas. Parents were William Darr Boyd and Birdie Missouri Eanes Boyd. Graduated from Caldwell High School in 1944. Later that year, he enlisted in the U.S. Navy, where he served until the end of World War II.
Took advantage of the G.I. Bill and graduated from Texas A&I in 1950 with a Bachelor of Science degree. His career work was with the U.S. Department of Agriculture for 32 years.
Olin was married in Lubbock to Velma V. Hughes in 1955. Olin and Velma moved from Lubbock to San Angelo, where they lived for 67 years. He was a member of St. Mark Presbyterian Church in San Angelo, where he served as deacon and later as elder.
He was preceded in death by his parents, his sisters Virginia S. Boyd, Willie M. Boyd, and Helen Boyd Montgomery.
Survivors include his wife of 68 years, Velma V. Boyd of San Angelo, Texas, son Jeffrey D. Boyd and wife Lori R. Boyd of Victoria, Texas, grandson Olin R. Boyd of Houston, Texas, granddaughter Claire E. Boyd Matthews and husband Ian C.S. Matthews of Clifton, Virginia, one nephew, and nine nieces.
His cremains will be interred in the Chriesman cemetery, where they will remain until resurrection morning."
A prepared and reverent man, Mr. Boyd drafted his obituary over eight years ago, editing with care over time to adjust for life's changes. His family discovered the handwritten draft the day of Mr. Boyd's passing and takes comfort in sharing his words in their original, succinct form.
Mr. Boyd died peacefully in his sleep at his home in San Angelo, Texas, surrounded by his family.
A memorial service is scheduled for 2:00 p.m. on Wednesday, March 15th at St. Mark Presbyterian Church in San Angelo.
In lieu of flowers, Mr. Boyd requested memorial contributions be made to St. Mark Presbyterian Church San Angelo; Concho Valley Home for Girls; St. Jude Children's Research Hospital; Shriner's Hospital.
Memorial Service
Wednesday, March 15, 2023
2:00PM - 3:30PM
St. Mark's Presbyterian Church 
2506 Johnson Street 
San Angelo, TX 76904
Write Your Tribute