Dates

Sep 14, 1941 Mar 09, 2023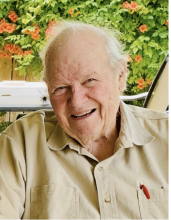 John David Samuelson, 81, passed away Thursday, March 9, 2023, in San Angelo.

Viewing will be from 10:00 AM until 12:00 PM, noon, Wednesday, March 15, 2023, at Robert Massie Funeral Home. Graveside service will be at 2:00 PM Wednesday, March 15, 2023, at Fairmount Cemetery under the direction of Robert Massie Funeral Home.

Mr. Samuelson was born September 14, 1941 to Rev. R.V. and Rosealie "Johnson" Samuelson in Des Moines, Iowa. John was a 1959 graduate of Austin High School. He was a proud veteran of the US Army serving at Ft. Benning where he worked as a helicopter mechanic. John moved to the Round Rock/Austin area in 1975 where he met Marcia Runkles, the love of his life. Marcia and John married on December 10, 1983 and would be celebrating their 40th anniversary this year. After raising their own children, they opened their home to foster children over the years. John was a home builder and a real estate broker all his adult life, and he retired in 2004 when they moved to San Angelo. John was a faithful Christian through the Lutheran church all his life. He was a member of the Texas Cattle Raisers Association and loved being on the ranch working cows. He was an avid collector of coins, monetary notes, and wooden ducks. John had a love of spending time outdoors, being with family, and loved being with his grandchildren. His grandchildren fondly called him Papa John. Papa John loved to share stories about growing up and his time in the service with his grandchildren. He will be greatly missed by all who loved him.

Survivors include his wife, Marcia of the home; a daughter, Stacey Christine Hall Bain and husband Kevin of San Antonio; a son Jeffery Scott Hall and wife Angela of Bulverde; four grandchildren, Olivia, William, Audrey, and Rhettley; two nephews, Kent Corbell of San Antonio and Rick Corbell of Austin; and a great niece, Kimberley Corbell of Austin. John was preceded in death by his parents; a son, Steven Clark Hall in 2022; a sister, Rose Adair Samuelson Corbell.
Write Your Tribute