Dates

Oct 10, 1944 Mar 08, 2023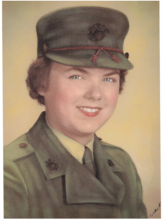 Carol Poole, 78, of San Angelo passed away on Wednesday, March 8, 2023.

Viewing will be from 10:00 AM - 8:00 PM on Wednesday, March 15, 2023, at Robert Massie Riverside Chapel with a visitation from 5:30 PM - 7:00 PM. Arrangements are under the direction of Robert Massie Funeral Home.

Mrs. Poole was born on October 10, 1944, in Dayton, Ohio to Robert and Gloria Shope. Carol graduated from Trotwood Madison High School in 1962. After high school she joined the Marines and served for two years, being discharged in 1966. While in the Marines she met her future husband, Dennis Poole. They were married on October 1, 1965, in Oceanside, California. He passed away on March 4, 1990. She retired as a customer service rep from GTE. Having lived in North Carolina, Ohio, and Iowa, in 2004, Carol moved to San Angelo to be closer to her children. During her retirement she enjoyed watching gameshows, drinking coffee, eating bacon and people watching. Carol loved the Marine Corp and often spent time reminiscing her days there and the life-long friends she made. She most loved spending time with her children and grandchildren.

She was preceded in death by a granddaughter, Amber Poole; and a sister, Robin Isgrigg.

Survivors include two daughters, Kristine Poole and fiancé Buster Lawrence of San Angelo and Heidi Saperstein and husband Michael of Houston; a son, Darren Poole and wife Natalie of Clear Lake, Iowa; a sister, Tami Smith and husband Doug of Trotwood, Ohio; two grandchildren, Sean Saperstein, and Mikayla Saperstein of Houston; and one niece, Systease Geib of Troy, Ohio.
PUBLIC VIEWING
Wednesday
March 15, 2023
10:00 AM to 8:00 PM  
Robert Massie Riverside Chapel  
402 Rio Concho Dr.
San Angelo, TX 76903 
---
VISITATION
Wednesday
March 15, 2023
5:30 PM to 7:00 PM  
Robert Massie Riverside Chapel  
402 Rio Concho Dr.
San Angelo, TX 76903
Write Your Tribute