Dates

Feb 03, 1930 Jan 24, 2023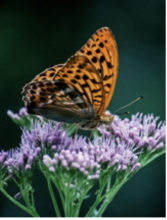 Joy Ladean Fly moved into her heavenly home on the morning of January 24, 2023 at the well-lived age of 92. Born to Hazel and Louie B. Martin, she grew up in the Robert Lee, Texas area where she met Bruce L. Fly, her husband of 62 years. After a few transient years following oil drilling rigs around West Texas, they settled in San Angelo and acquired the only home they ever owned.
"Home" and "Family" meant everything to Joy! She learned to cook from her mother and worked as a child in the family-owned café in Robert Lee. She became an excellent cook and loved to preserve fresh fruits and vegetables in season. An encouraging phrase often heard around her kitchen was "You gotta eat!" She was a proficient seamstress, enjoyed crocheting afghans, scarfs & blankets and making quilts. She donated much of her handiwork to her church and people in need. She also took great pride in her yard and flower garden and preferred doing as much of the work as possible herself until she was no longer capable of doing so.
Joy is survived by her eldest son Lyn (Alice) of Plano, Texas, daughter Dianna Fly of San Angelo, daughter-in-law Jody Fly, grandson Brad Fly (Mercyla) and great-grandchildren Abbie Shelburne McIntire (Weston) of Boynton Beach, Florida, Amory and Kemper. She is preceded in death by Bruce, her youngest son Gene (Jody), and all of her siblings.
A graveside service will be held to honor Joy's life at Lawnhaven Memorial Gardens at 3:00 PM on Saturday, January 28th, 2023.
In lieu of flowers, the family asks that donations be made to First Baptist Church of Bronte, Texas (424 S. Washington Street / Bronte, TX 76933).
Graveside
Saturday, January 28, 2023
3:00PM
Lawnhaven Memorial Gardens 
4989 FM Highway 1223 
San Angelo, TX 76905
Write Your Tribute