Dates

Jul 27, 1946 Jan 22, 2023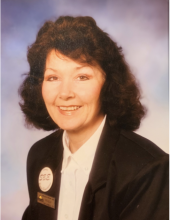 Paula Dixon, our beloved mother, grandmother, sister, and friend passed peacefully from this life on January 22, 2023. She was surrounded by her family as she went to be with our Lord and Savior, Jesus Christ.

Public viewing will be from 10:00 AM - 8:00 PM Thursday, January 26, 2023 at Robert Massie Funeral Home with a visitation from 5:00 PM - 7:00 PM. Services will be at 2:00 PM Friday, January 27, 2023 at Belmore Baptist Church. Burial will follow in Lawnhaven Memorial Gardens under the direction of Robert Massie Funeral Home.

Paula was the oldest of four children, born in Lillybrook, West Virginia. She had fond memories of playing with cousins at family get-togethers from that time. Soon though, much of her extended family made their way to West Texas. She grew up in Big Spring and San Angelo and would often recall special times with her Grandma Drucilla and Great-Grandmother Susie. Around this time, her stepfather came into her life and soon, his Air Force career took them to the tiny island of Okinawa. As a teen in Okinawa, Paula told us about days at the beach and the amazing meals her mom made with fresh seafood. It was also in Okinawa that she met the love of her life, Elmer "Ken" Dixon. He was serving in the army and when the two met, they fell in love right away. They soon married and built a life together, living in Ohio, Oregon, Kansas, and finally, Texas. They were blessed with two daughters and a son along the way.

Paula's favorite job was being a mom and grandmother and she gave her family an amazing gift in that area. She often volunteered at school and always welcomed the neighborhood kids into her home. She loved people and learning. If she wanted to try something, she figured out how to do it. She taught herself bookkeeping, crocheting, sewing, and algebra among many things. For years she helped her husband grow their car business by keeping the books. She was also a premier hostess with Home Interiors and Gifts. She had various jobs with the larger hotels in town and was an Employee of the Year with the Days Inn corporation. Later in life she became a CNA and took care of people with home health. Paula spent most of her career life at The State School where she loved her clients and felt a personal connection to try to give each one a better life.

Paula was fiercely loyal to her family. She also believed everyone was important and taught her children that you should give the same respect to the janitor that you would give to the CEO. She would never give up on anyone she loved. She just continued to pray, to love and keep believing. She taught us all that, at the end of the day, love is the only thing that matters.

Paula was preceded in death by her beloved husband of 46 years, Ken; her loving mother, Violet Ball; her step-father, Gene Young; and her brother, Robert Brandstetter.

Paula is survived by two daughters, Melissa DeZell and husband, Tony of San Angelo and Suzanne Lewellen and husband Freddie of Van Alstyne; a son Desmond Dixon and fiancé Launi Mae Smith of San Angelo; two sisters, Evelyn Hill and Nancy Kessler both of San Angelo; six grandchildren, Chris DeZell and wife Ashley of Stinnett, Corinna DeZell of San Angelo, Tyler Lewellen of Van Alstyne, Sabrina Lewellen of Van Alstyne, Summer Roberts of North Carolina, Joshua Dixon of San Angelo, and Marissa Dixon of San Angelo; three great-grandchildren, Lillie Canter-DeZell, Arson Nash and Benson Nash; and many other beloved family members to cherish her memory.
PUBLIC VIEWING
Thursday
January 26, 2023
10:00 AM to 8:00 PM
Robert Massie Funeral Home
402 Rio Concho Dr.
San Angelo, TX 76903
---
FUNERAL SERVICE
Friday
January 27, 2023
2:00 PM
Belmore Baptist Church
1220 S Bell
San Angelo, TX 76903
Write Your Tribute