Dates

Mar 29, 1939 Jan 17, 2023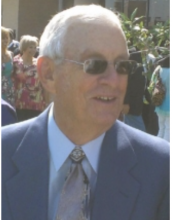 Emmett Don Butts, 83, went to be with his Lord and Savior on January 17, 2023.
He was born on March 29, 1939, in Knickerbocker, Texas to Charles Voy and Ruby Ann Butts. On June 19, 1957, Don married the love of his life, Betty Darlene Ford, in San Angelo where they resided 62 years before her heavenly home going. They have three sons.
Don graduated from Lake View High School in 1957. He attended San Angelo Jr. College through 1959. Upon graduation, Don went to work as comptroller for Terrill Manufacturing Architectural Millwork until his retirement in 2004.
Don was a lifelong member and dedicated adult Sunday school teacher of Lifepoint Baptist Church in San Angelo, Texas, (formally Baptist Temple). He served as Chairman of the deacon board for 48 years. Lifepoint has honored him with the title of "Deacon Emeritus".
Don was very active in the community, serving as representative for San Angelo district two (2) for several years before being elected Mayor of San Angelo for the 1991 – 1992 term. He also served on the San Angelo Planning Commission, Chamber of Commerce Board, Chairman of San Angelo Industries for two (2) years, Rio Concho Board for eight (8) years – four (4) of those as Chairman.
The Butts family is truly thankful the Lord allowed Don Butts to be our husband, father, grandfather and great grandfather.
Don was an avid outdoorsman and enjoyed the time he spent in the field with his sons. Whether hunting or fishing, dad always looked forward to the fellowship ahead. The memories will forever be cherished
Don was preceded in death by his parents, Charles Voy and Ruby Ann Butts, three brothers, Voy Lee Butts, Gene Butts and Charles Butts, one sister, Maureen McNeil, and several aunts and uncles. He is survived by his three sons, Ted Butts and wife Renee of Mertzon, Texas, Todd Butts and wife Paula of Bedford, Texas and Troy Butts and wife Deborah of Plano, Texas, seven grandchildren, Trevor Butts and wife Jennifer of Robert Lee, Texas, Courtney Piaz and husband Justin, of Mertzon, Texas, Chelsea Kennedy and husband Cemeron of Bedford, Texas, Jacee Butts of Stephenville, Texas, Austin Butts and wife Christina of Frisco, Texas, Avery Anderson and husband Jackson of Plano, Texas and Aaron Butts and wife Caroline of Richardson, Texas, five great grandchildren, Jaelyn and Blake Piaz of Mertzon, Texas, Nathanael Butts of Robert Lee, Texas, Charlotte Butts of Frisco, Texas, and Jack Wayne Anderson IV of Plano, Texas. Other survivors include a brother, Bill Butts and wife Mary, sister-in-law, Charlene Cauley and husband Leo. Don is also survived by several nieces and nephews.
The visitation will be on Friday, January 20, 2023, at Lifepoint Baptist Church from 6:00-8:00pm. Funeral Service will be at 2:00pm, Saturday, January 21, 2023, at Lifepoint Baptist Church, with Rev. Jay Clatworthy and Bill Butts officiating. Burial will follow at Lawnhaven Memorial Gardens.
Write Your Tribute