Dates

Jul 18, 1951 Jan 17, 2023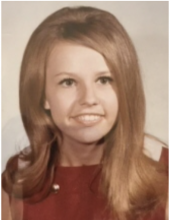 Darla Ann Nichols, 71, of San Angelo, Texas went to be with the Lord on Tuesday, January 17, 2023.
Darla was born, July 18, 1951, in Holdenville, Oklahoma to Joseph 'Jack' Easton Harris and Reba Harris. Her family moved to west Texas when she was very young and she attended school in Monohans, Texas.
What Darla may have lacked in academic prowess (spelling) she was more than compensated for in her tenacious pursuit of multiple successful private business ventures. Darla attended cosmetology before the age of 20 and worked as a cosmetologist/esthetician for 45 years opening her own day spa while simultaneously working as a co-owner of a small oil field service company that her and her ex-husband, Charles Nichols opened in 1984.
Darla was extremely active. She enjoyed her businesses, sports, working out, golf, pickle ball, making her famous enchiladas, drinking her Dr Pepper and sipping on her daily Baskin Robbins cappuccino blast. However, the thing she was most passionate about was her plants. Darla was the original green thumb and spent countless hours pulling stickers, weeds, and pruning and perfecting the most beautiful lawns and landscapes.
Darla's pride and joy were her daughters, Keri Womack and Leslie Reyes, of San Angelo and Heather Ferris, of Waco. She also leaves behind grandchildren Kenzie Franklin, Garin Dove, Aiden and Foster Reyes, Jax Ferris, and one great granddaughter, Palmer Franklin. She loved her family fiercely. She loved and served these people unconditionally and gave of herself, resources, but most importantly her time and encouragement.
Darla had a love for Jesus and people. We are forever grateful to The Garden and the way they have always loved, served, mentored, and modeled Jesus for our family so well.
Darla will be unimaginably missed by all who knew her, those who worked for or with her, debated, befriended or loved her.
Darla also leaves behind a brother, Rick Harris of Rogers, Arkansas and sister, Liz Laferney of Horshoebay, Texas.
Darla was preceded in death by her parents, Joseph 'Jack' Easton Harris and Reba Harris, a brother, Jerry White, and grandson, Sawyer Wyatt Letcher.
The Funeral Service will be at Harpers Funeral Home, Thursday, January 19th at 10:00am. A private interment will follow the service at Lawnhaven Cemetery. Pallbearers for the service will be Allen Dove, Easton Harrold, Brace Harris, Cole Harris, Dane Harris, and Connor Franklin.
Funeral Service
Thursday, January 19, 2023
10:00AM
Harper Funeral Home 
2606 Southland Boulevard 
San Angelo, TX 76904
Write Your Tribute