Dates

Mar 24, 1961 Jan 15, 2023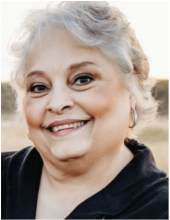 Debra Ann Eubanks, 61, of San Angelo went to be with the Lord on Sunday January 15, 2023.

Visitation will be on Friday, January 20th from 5:30 PM - 7:00 PM at Robert Massie Funeral Home. A Celebration of Life will be held on Saturday, January 21, 2023 at 11:00 am at Robert Massie Riverside Chapel. Arrangements are under the direction of Robert Massie Funeral Home.

Debbie was born to John L. White, Sr. and El Doris White on March 24, 1961, in San Angelo. Debbie had a wonderful childhood and great relationship with her mother and brother, John, with whom she remained close until her passing. Debbie graduated from Central High School in 1979. On August 30, 1991, Debbie married Charles Eubanks of Robert Lee, and they were married for 32 years. Together they raised four beautiful children. Debbie had many hobbies that she enjoyed, including scrapbooking, quilting, and sewing; but what she loved the most was being surrounded by family. She often reminisced of the family's time camping when the kids were in Boy Scouts and Girl Scouts and of their time traveling to her favorite place, the Great Smoky Mountains. This beloved tradition continued by sharing her love of camping with her grandkids.

She worked at GTE/Verizon for 22 years. After her career at GTE, she pursued a career in nursing. She obtained a Bachelor of Science in Nursing from Angelo State University in 2002 and continued in that profession until her passing. She truly oved her profession and felt called to help people.

She is preceded in death by her father and mother.

She is survived by her brother, John L. White, Jr. of San Angelo; husband, Charles of San Angelo; her sons, Jeremy Eubanks and wife Samantha of San Angelo, Brian Eubanks and wife Courtney of Miles; her daughters, Sarah Eubanks of San Angelo, and Kelly Rosser and husband Daniel of Granbury; and her 10 grandchildren, Jaxon, Cruz, Allison, Maverick, Charlotte, Berkley, Collins, Kennedy, Blake and Hudson.
In lieu of flowers Debbie would ask you to give to someone in need.
VISITATION
Friday
January 20, 2023
5:30 PM to 7:00 PM
Robert Massie Funeral Home
402 Rio Concho Dr.
San Angelo, TX 76903
---
MEMORIAL SERVICE
Saturday
January 21, 2023
11:00 AM
Robert Massie Riverside Chapel
402 Rio Concho Dr.
San Angelo, TX 76903
Write Your Tribute