Dates

Dec 22, 1955 Jan 14, 2023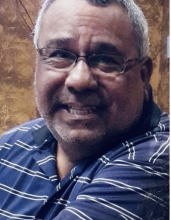 Larry Davila, of San Angelo, Texas, passed from this life on Saturday, January 14, 2023. He was 67 years old.

Larry was born December 22, 1955, in San Angelo, Texas. Larry enlisted in the United States Army as a VULCAN Gunner stationed at Fort Hood, Texas from 1973-1977. After serving in the army, Mr. Davila began work as a Machinist at Ethicon. He retired after 39 years. During his free time, Larry enjoyed playing golf, softball, tennis, bowling, fishing, and going to casinos. He loved watching westerns and collecting coins. He thoroughly enjoyed watching the Dallas Cowboys. His favorite thing of all was spending time with family, friends, and his cat Mama.

Larry is survived by his daughter, Chaniqua Davidson and her husband Pattrick; his two sons, Larry Davila and his wife Christina, and Benny Davila and his wife Roxann; seven grandchildren, Kristyn Wood and her husband Dillon, Brittany Villacres, Isaiah Davidson, Gabriella Davila, Kylie Davidson, Ezekiel Davila, and Benicio Davila; three great grandchildren; Adalee, Oliver, and Charlotte. He is also survived by seven sisters and five brothers.

Mr. Davila was preceded in death by father, Hilario Davila, mother, Elidia Najera, mom, Benita Pardon, one sister, Mary Gonzalez, three brothers, Joe Davila, Sefé Davila, and David Davila; and one grandson-in-law, Kevin Villacres.

No Services are scheduled at this time. Arrangements are under the direction of Robert Massie Funeral Home.
Write Your Tribute