Dates

Sep 05, 1953 Jan 12, 2023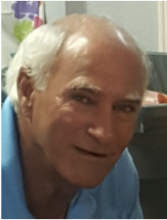 James Franklin Sweat Jr. passed away peacefully on January 12, 2023 at his home after an aggressive bout with cancer. He was born on September 5, 1953 in Dillon, South Carolina to Carrie Caulder Sweat and James Franklin Sweat. He was also a veteran and served in the United States Army.
He is survived by long time love Kimberly Bogovich; children, Matt and wife Melissa Sweat, Regina Hudson, Terri Ann and husband LLias Kalamaris, Veronica Mulhern and husband David, Misty Sweat, Brandi Sweat, Daniel Sweat; grandchildren, Taelor, Bayleigh, Blake, Evangelia, Antonios, Alexandros, Brooklynne, Cole, Brady, Cheyenne, Nikolaus, Maverick, Collin, Kylee, Kristin, Kinsley, Kaylee, Odin, Rory, Reign, Rylee; great granddaughter, Taegan; bonus daughters, Shannon Bogovich, Brandy Bogovich. He loved all his children and his grandchildren with his whole heart. He was the greatest dad and Papa. He was a kind, loving man. Quick to make a joke and he loved to bowl and all of his bowling family. A blessed man who was loved by many.
He is preceded in death by his parents James Franklin Sweat and Carrie Caulder Sweat and by Lester (Bud) Sweat.
A memorial service will be at Harper Funeral Home on Friday, January 20, 2023 at 1:00 PM.
Memorial Service
Friday, January 20, 2023
1:00PM
Harper Funeral Home 
2606 Southland Boulevard 
San Angelo, TX 76904
Write Your Tribute