Dates

Jun 28, 1931 Jan 08, 2023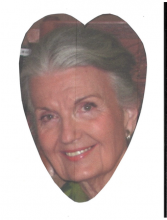 On Sunday, January 8, 2023, Terry Ferry left us to be with our Heavenly Father. She was born in Gonzales and though she and her husband moved many times, Texas was always home.

She graduated from Mary Hardin Baylor University back when it was a woman's college. Terry always liked to brag "with no men on campus, when something needed doing, we girls got it done." Graduating in 1952 with a bachelor's in science in education, she taught in Carlsbad, New Mexico for twelve years with one year as an exchange teacher in East Rochester, New York. Terry was never happier than when she heard from her students. They were "her kids" and loved them all.

After marrying Neil and moving to California she worked in reference libraries for two engineering companies until retiring and moving to Valdosta, Georgia. Neil and Terry's parents joined them for several years and they were able to enjoy life together.

She was preceded in death by wonderful parents, Lois and Arthur Reeves; her husband, Neil Ferry; and step-sons, Clinton Ferry and Leonard Ferry.

Terry is survived by her sister, Jenna Guest of Bryan; cousins, Marlene Coleman, Eddie Ryan and wife "Duts", Dr. James Potter all of San Angelo; and second cousin, Kerry Armistead and wife Christine of San Angelo.

Terry is also succeeded by stepchildren; son, Filley and wife Barbara; granddaughter, Stephanie Bonitez and husband Juan; great-grandchildren, Ava and Jayden Benitez, daughter-in-law, Laurita Ferry; grandsons, Robert Ferry and wife Paula and Aaron Ferry, daughter-in-law, Janet Filley, Granddaughter, Stacie Skarin and husband Charles; and little great-grandson, Colten Skarin.

The Rio Concho Patio home Friends and neighbors (who are life family) and friends of Belmore Baptist Church are all remembered.

Making it simple for the family, Terry has requested no formal services, only that her ashes be placed by her husband's ashes in the Ferry Family Cemetery in Sheldon, Missouri. Terry and Neil shared their life together for 57 years.

I leave with joyful memories and love for each of you. May the Lord continue to bless you and wrap you in His love.

Blessings to you all.
Write Your Tribute