Dates

Sep 21, 1939 Jan 08, 2023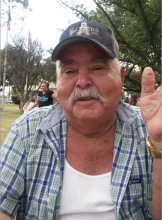 Gregorio Belman Rodriguez passed away peacefully at his home on Sunday morning January 8, 2023, he was 83.

Viewing will be from 10:00 AM - 8:00 PM Thursday January 12, 2022 at Robert Massie Funeral Home with a visitation from 5:30 PM - 7:00 PM. Funeral Services will be 10:00 AM Friday, January 13, 2022 at Celebration Church. Burial will follow in Eldorado Cemetery under the direction of Robert Massie Funeral Home.

Gregorio better known as "La Chiva" or "Chivo" was born on September 21, 1939 to Gregorio "Guy" "Gollo" Rodriguez and Manuela Belman Rodriguez.

He leaves behind his children, Rene Rodriguez and wife Debbie, and Jo Ann R. Martinez and husband Jesse all of San Angelo, TX; eight grandchildren, Jessica, Zachary and Israel Rodriguez, David Ray Rodriguez, Naomi Balderas, Byanka Garcia, Nicholas Velasquez and Gloria Moreno; 18 great grandchildren; a great-great grandchild and one on the way; his brothers, Jesse Rodriguez of San Angelo, Carmen Rodriguez and Johnny Rodriguez and wife Vivian all of Eldorado, his sisters, Mary Varela of San Angelo, and Sandy Fava of San Antonio; numerous nieces and nephews; and so many friends.

"La Chiva" joins in Heaven his parents; his brother, Frank "Pancho" Rodriguez; and his sisters, Janie "Juana" Robledo and Trini Gonzalez; and many friends who have gone before him.

"Chivo" always welcomed everyone into his life. He knew no strangers and always had a smile for everyone he met. He often offered unsolicited advice and his stories of his past were endless, it seems there was nothing that he had not seen or done. On his final day, he had a beautiful send off with family and friends coming and going to say their goodbyes and I-Love-Yous.

A special thank you to all the caregivers at Centerwell and Girling, also Hospice of San Angelo who helped with his peaceful transition. Thank you also to Dr. Eduardo Gonzalez-Bonilla and Dr. Hubble at Shannon for all of their care. To his special ladies, Jovitia Diaz and Yolanda Rodriguez thank you so much for taking care of Dad and making him feel special and making him laugh.
Thursday
January 12, 2023
10:00 AM to 8:00 PM
Robert Massie Funeral Home
402 Rio Concho Dr.
San Angelo, TX 76903
---
FAMILY VISITATION
Thursday
January 12, 2023
5:30 PM to 7:00 PM
Robert Massie Funeral Home
402 Rio Concho Dr.
San Angelo, TX 76903
---
FUNERAL SERVICE
Friday
January 13, 2023
10:00 AM
Celebration Church
2639 Sunset Dr.
San Angelo, TX 76904
Write Your Tribute