Dates

Apr 11, 1948 Jan 03, 2023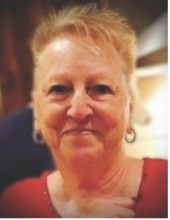 Patsy (Pat) Pauline Smith Aldrich (Wife, Mom and Grammy) was born on April 11, 1948 in Los Angeles, CA but was raised in Bakersfield, CA by her parents James H and Helen P Smith. In 1968 she married Michael E Aldrich and together they raised three boys Ron, Mark and Michael. Through the years they traveled with the help of the United States Air Force; Germany and South Carolina were her favorites, but each base carried something special. They retired and settled in San Angelo, TX in 1983. Pat worked as a Bookkeeper and in Retail but finally decided that being a housewife and social butterfly was more fun! Her favorite pastimes were shopping, decorating, cooking, and checking in on family and friends. Pat loved hard and we loved her even more.
She is survived by her Husband Michael E Aldrich; Sons Ron Tensley and wife Terrie, Mark Aldrich and wife Karrie, Michael Aldrich and wife Brandy; Grandchildren Rikki, Alex, Mitchell, Taylor, Jared Aldrich, Zachary Aldrich and wife Alberta, Brandon Rodriguez and wife Jackie, Makayla and Tyler Aldrich, Caleb and Cooper Aldrich; and Great Grandchildren Teagan and Rhyan, Bowen and Tate Aldrich, Luke and Elodie Rodriguez.
A memorial service will be held on Friday, January 6, 2023 at the Word of Life church at 10:30 AM.
Memorial Service
Friday, January 06, 2023
10:30AM
Word of Life Assembly of God 
5173 S. Bryant Blvd. 
San Angelo, TX 76904
Write Your Tribute