Dates

Dec 02, 1929 Jan 03, 2023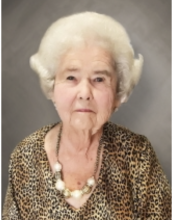 Francis Louise Matthews went home to be with her Heavenly Father on Tuesday, January 3,2023, at the age of 93 years. Visitation will be held on Sunday, January 8th from 2-5 p.m. at Harper Funeral Home in San Angelo, Texas. Funeral Services will be held on Monday, January 9th, at 2 p.m. at The First Baptist Church in Big Lake with burial to follow at Glen Rest Cemetery.
Louise was born on December 2, 1929, in Mount Vernon, Illinois. She was the oldest of six children. She attended school through the 8th grade. Her mother encouraged her to stay home and help with her siblings instead of going on to high school, because "she wouldn't do anything but raise kids anyways." Boy was she wrong. She married the love of her life, James Matthews, on November 30, 1947, in Mount Vernon. His marriage proposal to her had to have been the best there ever was. He asked her, "Will you wash my clothes for the rest of my life?" They were married for 57 years. Their first son, Steven, was born in Mount Vernon, Illinois.
James, Louise, and Steven moved to Texas in 1952 with only a trailer and the preserved food they could pull. James went to work in the oilfield for Schlumberger while Louise went to work as a switchboard operator for the phone company. Within two years, they owned two houses and James surprised Louise with a new car that year for Christmas. James and Louise were a team. They established Matthews TV Sales & Service in Big Lake in 1961 where they sold RCA & Zenith TVs until the 1990's. Their family had the first color TV in town, and they invited people over to watch Bonanza and Walt Disney's Wonderful World of Color on Sundays. They went on to develop a Translator Service. They owned a fishing cabin in Comstock where they discovered that they couldn't get a signal to watch their beloved Dallas Cowboys games. So, they created their own cable TV systems in two towns to remedy that. James & Louise purchased property next door to their TV & Repair shop and opened Matthews Hallmark Gift Shop that Louise went on to operate and bless the community with for over 50 years. There she gave many people their first jobs. She helped people pick out special occasion cards and gifts that she beautifully wrapped and she made countless balloon bouquets for parties. She enjoyed visiting with her friends over coffee in the back of the store and entertaining her grandkids by showing them how to help customers and work a register. She enjoyed hosting many Christmas parties at her store with her special sugar cookies, Santa's sleigh, and James in a red suit. James & Louise steadily bought rental property for many years, which wound up being another way they served their community with the ebb and flow of the oilfield.
James and Louise were members of First Presbyterian in Big Lake in the 1950's until they helped to found Faith Community Church where they loyally served for over 45 years. Louise led the 4–6-year-old class and helped countless little children sing "Jesus Loves Me" and fold their hands to pray. There she started and ran the only food bank in Big Lake for years. She diligently served the needs of people hard on their luck, blessed them until they were back on their feet, and took a vested interest in those she met, many times responding to needs late at night.
Together they raised four boys and supported them through their many interests. Louise was a Cub Scout Den Mother for 15 years. Her stories from raising 4 boys were comical, including hosting Steve & Randy's rock band rehearsals in the den, complete with Go-Go dancers. Among her many talents, she was a talented cake decorator. She sold cakes to help send three of her boys to Texas Tech. She made all her son's wedding cakes, and two she had to assemble and decorate in her hotel room before the wedding.
Louise's babies went on to have babies, and her grandkids and great-grandkids were her pride and joy. She planned Cousin Reunions where she gathered her grandkids in the summertime for fun. Whether it was sleepovers at her house with rented movies and fingerpaints or loading them all up in the RV while James drove and taking them to their beloved Lake LBJ. This time together was special. She loved being with her family through summertimes and holidays, watching her grandkids play sports, and throughout all the most special times in life.
Louise was gifted with many talents. Despite her mother's prediction, she went on to complete college courses and continuing education courses well into her later years. They included business classes, watch repair, and even a course on clown studies so she could learn to make balloon animals. She traveled with her friends to Cloudcroft, New Mexico to study oil painting and also made stained glass. She was a masterful gardener and she loved taking pictures of her family & of sunsets. Louise had a true gift for hosting her family and friends. For years she hosted James's poker games and holidays for her family. James & Louise loved to travel all over the US, Alaska, Hawaii, Canada, Aruba, and Europe. Their most treasured trips were to the property they owned on Lake LBJ where she hosted her family, church groups, and a special group of friends from around the country called "The Old Farts" for over 20 years. That group really knew how to party. She was talented at maintaining decades long friendships with people from all walks of life. She especially loved her dear friends in Trailblazers with whom were the fellow pioneers of Big Lake. She will be remembered for her giving spirit. She loved children and gave out money at her shop for good grades on report cards, pennies to little ones at church for the offering plate, gas money to her grandkids, and dollar bills to any kid she came across. Louise was skilled at loving people, serving her community, telling funny stories, and being the glue and Matriarch of her family. She was a one-of-a-kind character, always spirited with a quick wit, and a heart of gold. They just don't make them like her anymore. There was a lot of life packed into that little lady. It is her life's example of loving everybody always that leaves us all with a lasting impression.
Louise served her community of Big Lake with a tremendous amount of love and pride. She served on The Big Lake City Council as the first woman to ever be elected. She served as President and Member of the Garden Club for many years. James and Louise were also members of the New Years Eve dance club for many years. In 2018, Louise received the The Pioneer of the Year award from The Big Lake Chamber of Commerce in which she was a member.
She was preceded in death by her parents, Aubrey, and Evelyn Morris; two brothers, August Morris, and Howard Morris; her beloved husband and partner through it all, James, a stillborn son, Douglas Wayne and two sons, Steven Matthews, and Randy Matthews.
She is survived by her brother, Lawrence Morris and sister-in-law, JoAnn Morris of Channahon, Illinois; sister, Jesse Dobbs of Marseilles, Illinois; and her baby sister, Betty Wright of Marseilles, Illinois; many nieces and nephews whom she loved; She is survived by her two sons, Barry Matthews and Jimmy Matthews and wife Linda, all of Big Lake; her daughter-in-law, Elaine Matthews of Austin; seven grandchildren, Jason and Sarah Matthews of Austin; Megan Wells and husband Rance of Amarillo; Lara Jacobs and husband Greg of Corvallis, Oregon; Michael Matthews and wife Natalie of Mertzon; Jill Fortenberry and husband Michael of Big Lake; and Julie Matthews and husband Claudio also of Big Lake. Nine precious great grandchildren, Robert "Tripp" Wells III, Charlotte Salonen, Ally, and Macy Matthews, Jentry Fortenberry and Allison, Josh, Brazos, and Avery Sosa.
Pallbearers include her grandsons, Michael Matthews and Jason Matthews, grandsons-in-law, Rance Wells, Michael Fortenberry, Claudio Sosa and a dear friend, Charlie Walker.
Honorary Pallbearers include Willie Black, Kelly Rainwater, Jr Vargas, Santos Gallegos, Mark Noland, and Ray Aubrey.
The family wishes to thank Marcella Gallegos whom Louise always said was "her angel", and the many others who helped care for Louise while she remained in the home she dearly loved.
Memorials may be sent in her memory to The West Texas Boys Ranch and Sonrisas of San Angelo or to Trailblazers in Big Lake.
Visitation
Sunday, January 08, 2023
2:00PM - 5:00PM
Harper Funeral Home 
2606 Southland Boulevard 
San Angelo, TX 76904
Funeral Service
Monday, January 09, 2023
2:00PM
First Baptist Church of Big Lake 
510 E 7th St. 
Big Lake, TX 76932
Write Your Tribute