Dates

Aug 12, 1948 Jan 03, 2023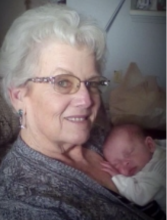 On January 3rd, 2023, Cynthia Francis Green of San Angelo, TX passed comfortably at home at the age of 74. Cynthia was born to Leslie and Nancy Langston in 1948. She married Jesse Eugene Green in 1965, and together they raised two children, Tammie and Shannon.
She received an Associates in Applied Science from South Plains College in 1974. For over 35 years she served the community of Iraan, first by operating the local museum a few years, then she became a chamber of commerce executive, and eventually worked full time at the Iraan Utilities office until her retirement. In addition, she was a lifelong volunteer as an EMT, and Firefighter. She served the community as a emergency medical instructor. She also was a dedicated VBS and Sunday School teacher as well as a Kid's Camp chaperone.
After moving to San Angelo, she served at the Tom Green County Jail at Through God Comes Justice along with serving at Glen Meadows Baptist Church in many capacities.
Cynthia is preceded in death by her father Leslie, her mother Nancy, her sister Evelyn, as well as her daughter Tammie. She is survived by her husband Jesse, their daughter Shannon, her sisters Peggy & Debbie, and her 5 grandchildren, her 3 great grandchildren, and many beloved cousins, nieces and nephews.
Visitation will be on Thursday, January 5th from 5-7PM at Harper Funeral Home, 2606 Southland Blvd, San Angelo, TX 76904
Service will be on Friday, January 6th at 10AM at Harper Funeral Home.
Burial to follow at Johnson's Lawnhaven Memorial Gardens. 4989 FM Highway 1223, San Angelo, TX 76905.
Memorials may be made to:
Through God Comes Justice
PO Box 3126
San Angelo Tx. 76902.
Bishop Street Recovery Ranch
PO Box 9
12271 Knickerbocker Rd.
Knickerbocker Tx. 76939
Write Your Tribute