Dates

Nov 26, 1944 Jan 01, 2023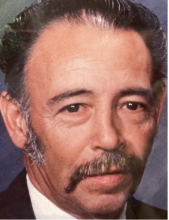 Santos Garza, 78, went to be with his Lord Sunday, January 1, 2023, at his home surrounded by his loving family.

Public viewing will be from 10:00 AM until 8:00 PM with a Prayer Service being at 6:00 PM Wednesday, January 4, 2023, at Robert Massie Riverside Chapel. Funeral Service will be at 10:00 AM Thursday, January 5, 2023, at Robert Massie Riverside Chapel with Pastor Juan Jose Lopez, son-in-law, and pastor of In Faith Ministries, officiating. Burial will follow at Miles Cemetery under the direction of Robert Massie Funeral Home.

Mr. Garza was born November 26, 1944 in Eden. Santos married Maria Valles on February 23, 1976 in Durango, Mexico. They have been residents of Miles for 39 years. Santos was a sheep sheerer for over 20 years and later worked at Gerber in packing and shipping for 16 years, retiring in 2000. He was a member of In Faith Ministries. Santos loved being with family and especially his grandchildren. He enjoyed raising animals, gardening, building things, watching westerns, and loved most of all dancing with the love of his life, Maria.

Survivors include his wife, Maria of the home; eight daughters, Molly Ramon and Freddy Gomez of San Angelo, Geneva Aguilar and husband Jesse of Miles, Millie Weng and husband Guerin of Ft. Worth, Virginia Lopez and husband Juan Jose of Miles, Maria Castaneda and husband Christopher of San Angelo, Lorena Lopez and husband Ernest of San Angelo, Sandy Lopez and husband Abran of San Angelo, and Ruby Ponce and husband David of San Angelo; 22 grandchildren, six great grandchildren; four brothers, Charlie Garza of Clovis, New Mexico, Frank Garza of Rowena, Richard Garza of Brownwood, and Cruz Garza of Ft. Worth; and three sisters, Celia Estrada of San Angelo, Janie Lipsmeyer of Little Rock, Arkansas, and Maria Ruiz of Madera, California.
PUBLIC VIEWING
Wednesday
January 4, 2023
10:00 AM to 8:00 PM
Robert Massie Funeral Home
402 Rio Concho Dr.
San Angelo, TX 76903
Write Your Tribute