Dates

Mar 02, 1969 Dec 31, 2022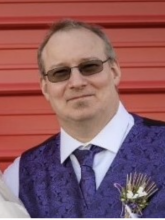 Jon D. Hartel, Jr., 53, passed away Saturday, December 31, 2022, in San Angelo, Texas.

No services scheduled at this time. Arrangements are under the direction of Robert Massie Funeral Home.

Jon Hartel was born March 2, 1969 in New Bedford, Massachusetts. Jon was a veteran of the US Army serving active duty from 1987 until 2001. He was an 11C in the Infantry. During that time, he served in the Gulf War, Korea, and as a liaison between the Michigan National Guard and the US Army. In 2001, he joined the Michigan National Guard, working as an instructor, and retired from the Guard at the rank of Sergeant First Class (E7) in 2007.

Jon was a resident of Battle Creek, Michigan for 26 years. He married Janet Jackson on October 4, 1989 in Killeen, Texas. He worked as a Master Paint Tech for Duncan Aviation in Battle Creek for 22 years until his death. He enjoyed bow hunting, playing tabletop games and card games, and was a former member of the S.C.A. Jon was active in the Duncan Aviation United Way Committee for the past six years, and participated in Walk a Mile in Her Shoes for three years. Jon was a member of the Harper Creek Baptist Church where he sang in the choir, and served on the financial, benevolence, and grounds committees. Jon was also very active in his daughter's interests in band and choir, chaperoning her Marching Band camps and missing only one performance in 10 years. Jon loved his cats, Lovey, Tigger Boo Boo Boy, and Sweet Caroline, and was a supporter of local animal shelters.

Survivors include his wife, Janet Jackson-Hartel of their home in Battle Creek, Michigan; daughter Vanessa Hartel of San Angelo with her husband Casey Dees; daughter Brittney Dirnbauer currently serving on the USS Nimitz; his parents, Diane and Joseph Mulhern, Sr. of Taunton, Massachusetts; three brothers, Gary Gonsalves and wife Barbara of New Hampshire, Joseph "Joe" Mulhern, Jr. and wife Jennifer, and James Mulhern and wife Lauren, all of Massachusetts; his in-laws, Donna and Dwight Jackson of San Angelo, Jon learned may things about fixing cars and hunting from Dwight; and his many cousins, nieces and nephews.
Write Your Tribute