Dates

Sep 01, 1974 Dec 29, 2022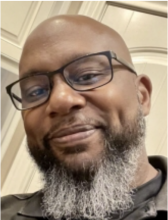 Tony Ray Singletary, 48 of San Angelo, TX passed away on 12/29/2022. He was the husband of Kesha Singletary. They shared 23 years of marriage together.
Born in Honolulu, Hawaii, he was the son of Nina and Ray Singletary. He attended Lumberton High School and Park University. He was employed at Goodfellow Air Force Base and worked as Chief, Readiness & Plans 17th Force Support Squadron.
Tony will be remembered as a loving husband and devoted father, Great leader, mentor, supervisor, brother, and friend. He was the funniest, realist, coolest and kindest person you will ever meet.
He is survived by Kesha Singletary (wife), Anaya and Alina Singletary (daughters), Ray and Nina Singletary (parents), Tonette Gibson and Tanya Singletary (sisters), Lionel and Rovina Edwards (In-Laws) and a host of nieces, nephews, great niece, great nephews, cousins, extended family and friends.
The funeral service will be held on 1/7/2023 at 2:00 pm (Harper Funeral Home, 2606 Southland Boulevard, San Angelo, Texas). The viewing will be held on 1/6/2023 from 5:00 pm to 7:00 pm at Harper Funeral Home.
Family and friends may share condolences and sign the online register book at www.harper-funeralhome.com.
Visitation
Friday, January 06, 2023
5:00PM - 7:00PM
Harper Funeral Home 
2606 Southland Boulevard 
San Angelo, TX 76904
Funeral Service
Saturday, January 07, 2023
2:00PM
Harper Funeral Home 
2606 Southland Boulevard 
San Angelo, TX 76904
Write Your Tribute