Dates

Jun 12, 1949 Dec 29, 2022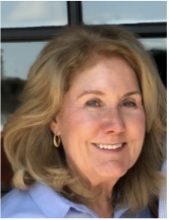 We are deeply saddened to announce that our beloved wife, mother, sister, grandmother, and friend, Bryce Stone Thieman, passed away peacefully at home, surrounded by family, on December 29, 2022, after a brief but fierce battle with cancer.
Bryce was born in San Angelo, Texas to Jean (McCandless) and Hugh Lamar Stone, Jr. on June 12, 1949. She grew up in Houston and graduated from Lamar High School. While growing up in Houston, she relished playing tennis at the Houston Country Club. Bryce, with her characteristic humor and humility, loved sharing the story of how she stumbled into playing a doubles match against George H.W. Bush and James Baker III.
Bryce grew up in Houston, but her heart was always in West Texas. After briefly attending Bradford College in Haverhill, Massachusetts, she quickly returned to Texas to escape the snow and cold and be closer to family and the family ranch. She then enrolled at Texas Tech University, where she was a member of the Pi Beta Phi sorority and graduated with a Bachelor of Arts degree in Spanish. While at Texas Tech, she studied abroad at the Universidad de las Américas in Mexico City, Mexico. She continued her education at Trinity University in San Antonio, earning a Master of Arts degree in Spanish. Following school, Bryce worked for the San Antonio Chamber of Commerce and later moved to San Angelo to be closer to her grandparents, the McCandlesses and the Stones. She taught at schools in Eola and Christoval and kept up her tennis playing at San Angelo Country Club.
On December 31, 1982, Bryce married Mark Havins Thieman of San Angelo, Texas. They were married for just two days shy of 40 years. Mark and Bryce built a family of three children, Ashley, Joe, and Drew. Her children were the center of her world. Attending their activities—including swim and gymnastics meets—and, more recently, her grandchildren's activities filled her calendar. Her grandchildren adored her and considered her one of their best adventure and play mates. "Police" chases and "bear" hunts with her grandson, Parker, were some of her specialties. She cherished family and friends and always looked forward to hosting at the family ranch for celebrations and holidays, especially for Labor Day dove hunts and Thanksgiving.
Bryce was a woman of deep and abiding faith and a member of Emmanuel Episcopal Church, serving in various capacities over the years, including on the Vestry, the Altar Guild, and St. Catherine's Guild. She also regularly attended Father Bill Wright's Bible Study Class and headed up the Wednesday Night Cooks for a number of years. Although she was a steadfast Episcopalian, she harbored a lifelong love and respect for the artwork and imagery of Latin American Catholicism and history.
Never one to sit still, Bryce's ranching and conservation interests led her to become a member of the Texas Wildlife Association and serve for a time as Treasurer of the Tom Green County Prescribed Burn Association. She was also a Sustaining Member of the Junior League of San Angelo and a member of the 20th Century Club. All who knew her knew her as unassuming, modest, fun- and dance-loving, warm, laid-back, and always gracious. Whether greeting old friends or new, she wanted to hear your story or what was new with you. A quick laugh and warm hug, sprinkled with a few self-depracating comments, were never far behind.
Bryce was preceded in death by her daughter, Bryce Drew Thieman, her parents, Jean and Hugh Lamar Stone, Jr., and her grandparents, Velma and Bryce McCandless and Lucile March and Hugh Lamar Stone. Bryce is survived by her husband, Mark, her son Joe and wife Casey Thieman of San Angelo, stepdaughter Ashley and husband Travis Phillips of Austin, grandchildren Lily and Landon Phillips and Parker and Camryn Thieman, her brother Hugh Lamar (Che) Stone III and wife Bitsy of San Angelo, nephews Hugh Lamar Stone IV and wife Francesca of San Antonio and Preston Stone and wife Sarah of Santa Fe, New Mexico, and grand nephews and nieces Hugh, Phillip, and Josephine Stone and Sophia Stone.
The celebration of Bryce's beautiful life will be held at Emmanuel Episcopal Church in San Angelo on January 7, 2023, at 10:00 am. If you wish to give a donation in Bryce's honor, please consider the Drew Thieman Young Musicians Fund or a Memorial Offering at Emmanuel Episcopal Church.
Celebration Of Life
Saturday, January 07, 2023
10:00AM
Emmanuel Episcopal Church 
3 S. Randolph St. 
San Angelo, TX 76903
Write Your Tribute