Dates

Jun 01, 1955 Dec 23, 2022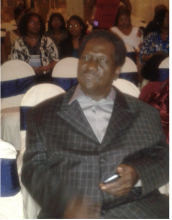 Bobby Jewel Townsend Sr was born June 1, 1955 in Dallas to Preston Charles and Jimmie Lee Townsend. To some he was Uncle Bobby, but to most Jugga.

Celebration of life services will be 4:00 PM Saturday, January 7, 2023 at New Jerusalem Church of God in Christ. Arrangements are under the direction of Robert Massie Funeral Home.

He was raised in San Angelo, attended Blackshear Elementary and also attended Lee Jr. High School. He joined the military, serving in the Army for a time, was a cook, and but there was a greater duty that defined his time on this Earth. Jugga's life's work revolved around being an amazing husband, and an outstanding dad. There is no debate on either, absolutely unmatched father and husband.

Let it be known, Bobby Jewel Townsend Sr definitely considered himself a "world class pitmaster" in addition to being the great man, father, and husband he lived to be.

Jugga was the baby boy among his siblings. He was proceeded in death by his parents, Preston and Jimmie Lee Townsend. His brothers and sisters, Dorothy, Willie, Willa, David, Robby, and Preston (Cooter). Baby boy will be welcomed, they have been waiting. His family also includes several nieces and nephews: Debra, Paul, Paula, Angelica, Tony, and Courtney and Quint.

Bobby Townsend, Sr. is survived by the love his life, queen, and wife of 46 years, Vanessa Townsend. There is nothing in his lifetime he cherished more. Together, they gave life and raised three children, Marquette Walker, Bobby Towsend Jr, and Kevin Townsend. Vanessa and Bobby are also the proud grandparents of D'Nasha Walker, Marquette Walker Jr, Ja'Marques Walker, Khloe Walker, Kaleb Walker, Kendrick Washington, Alex Gonzalez, Allan Townsend, Avery Townsend, Kevin Townsend Jr., Aleigha Townsend, and Kashlyn Townsend. Also, a great grandfather to D'Arius Raeshawn Hall I know he would love give mention to his "daughters", Sherri Townsend, Latresia Sherrell, and Shawna Walker. Special mention to Nakia and Tess.

Bobby aka Jugga will be greatly missed. But know and take comfort that his mission in life has been fulfilled. There is no greater husband. There is no greater father. Remember Bobby Jewel Townsend Sr as a great man.
 
CELEBRATION OF LIFE
Saturday
January 7, 2023
4:00 PM
New Jerusalem Church of God in Christ
1515 N. Chadbourne
San Angelo, TX 76903
Write Your Tribute