Dates

Nov 15, 1944 Dec 21, 2022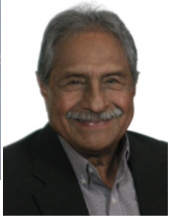 Garcia Family Patriarch Mike Garcia Jr., 78, of Rowena, Texas passed away peacefully at his home in San Angelo on Wednesday, December 21, 2022 surrounded by family members. He was born on November 15, 1944, to Mike Garcia Sr. and Virginia Gaitan.
Survived by: wife Diana Garcia of 58 years, daughter JoAnn Castillo and husband Edward, son Edward Garcia and wife Michelle, daughter Veronica Garcia, daughter Cynthia Garcia, daughter Melissa Guzman and husband Diego. Grandchildren: Michael Castillo, Justin Mercardo and wife Monica, Lindsay Castillo and husband Daniel, Brittney Mercado and partner Marissa Villanueva, Breanna Garcia and fiancé Ashley Stone, Kami Ascol and fiancé Shawn Swinehart, Brandon Castillo and fiancé Courtney Garza, Jered Thomason, Connor Garcia, Tristan Guzman, Logan Guzman, and Ayden Guzman. As well as 17 great-grandchildren.
Mike is also survived by siblings: Carolyn Fesler and husband Jeff, Henry Garcia and wife Cindi, Sylvia Bickford, Louis Garcia and partner Teresa Kennedy, Johnny Garcia and wife Lettie, and Patsy Ramirez.
Mike was preceded in death by parents Mike Sr. and Virginia Garcia, sister Elissa Garcia, and niece Andrea Garcia.
Born and raised in Rowena, Texas, Mike graduated from the Rowena School District in 1962 and attended the San Angelo Business College. After graduation, Mike enlisted in the United States Army in 1964 and served 5 years before receiving an Honorable Discharge in 1969. Mike spent his entire adult life in the entertainment industry ranging from radio station host for KUCA New Mexico, KSJT 107.5 San Angelo, KYZZ Tejano Country, Kixy Kool 100 San Angelo, hosting and producing his television shows, "Si Se Puede" and "Hispanorama", as well as owned and operated the "Latin Ballroom" in Hereford, Tx. While off-stage, Mike worked at countless car dealerships over the years, WoodmenLife, and Scott Allison Real Estate. Mike retired from the United States Department of Agriculture in 1989.
After retirement, Mike enjoyed spending time with family as well as fishing and golfing in San Angelo.
Mike Garcia, a great humanitarian, will be remembered for his great sense of humor, compassion, and love for his family.
The family would like to graciously thank the staff at UMC in Lubbock, Shannon Medical Center, and Concho Hearts Hospice of San Angelo for their care and compassion.
Rosary services will be held at Harper Funeral Home, 2606 Southland Blvd, Monday, December 26, 2022 at 6pm. Funeral services will be in Mike's hometown of Rowena at St. Joseph's Catholic Church on Tuesday, December 27, 2022 at 10am with interment to follow at St. Joseph's Catholic Cemetery. Friends and family are welcomed to meet at Harper Funeral Home Tuesday morning for funeral procession to Rowena.
"I've lived a life that's full, I've traveled each and every highway, oh and more, much more than this, I did it my way."
Rosary
Monday, December 26, 2022
6:00PM
Harper Funeral Home 
2606 Southland Boulevard 
San Angelo, TX 76904
Funeral Service
Tuesday, December 27, 2022
10:00AM
St. Joseph's Catholic at Rowena 
County Road 257 
Rowena, TX 76875
Write Your Tribute