Dates

Jan 09, 1955 Dec 19, 2022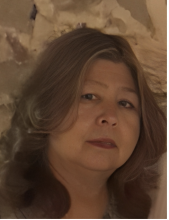 Juanita Morena Barrera, 67, of Del Rio went to be with her Lord and Savior on Monday, December 19, 2022, at her home.

Public viewing will be from 12:00 PM until 8:00 PM with the Rosary being prayed at 6:00 PM Monday, December 26, 2022, at Robert Massie Funeral Home. Mass will be at 10:00 AM Tuesday, December 27, 2022, at St. Joseph Catholic Church with Father Juan Lopez-Cortes. Burial will follow at Lawnhaven Memorial Gardens under the direction of Robert Massie Funeral Home.

Mrs. Barrera was born in Acuna, Mexico on January 9, 1955, to Miguel Leos Moreno and Maria Calderon Moreno. Juanita moved with her family to San Angelo in 1975 and later became a United States citizen. Juanita worked several years at Levi Strauss, City of San Angelo and ABM Cleaning Services. Juanita was a loving wife, mother, sister, and grandmother. She enjoyed spending time with family and friends, going shopping as well as playing bingo.

She is survived by her husband of over 10 years, Pedro Barrera of Del Rio; three sons, Cesar Garcia of Austin, Octavio Garcia (Angie) of Dallas, and Danilo Garcia of New York; one granddaughter, Alannah Garcia of Dallas; her father, Miguel L. Moreno of San Angelo; brother, Adolfo Moreno (Mita) of San Angelo; along with several nieces, nephews, aunts, uncles and cousins. Juanita was preceded in death by her mother; a brother, Miguel Moreno, Jr.; and a sister, Martha Tovar.
PUBLIC VIEWING
Monday
December 26, 2022
12:00 PM to 8:00 PM
Robert Massie Riverside Chapel
402 Rio Concho Dr.
San Angelo, TX 76903
---
ROSARY
Monday
December 26, 2022
6:00 PM
Robert Massie Riverside Chapel
402 Rio Concho Dr.
San Angelo, TX 76903
---
MASS
Tuesday
December 27, 2022
10:00 AM to 11:00 AM
St. Joseph Catholic Church
301 W. 17th. Street
San Angelo, TX 76903
Write Your Tribute