Dates

Aug 22, 1924 Dec 18, 2022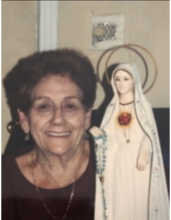 Ramona Menchaca, 98, passed away on Sunday, December 18, 2022. She was a member of St Mary's Catholic Church.
She was proceeded in death by her husband, Horacio Menchaca; daughter, Martha M. Flores; son, Tony P. Menchaca and her grandson, Che Escamilla.
She is survived by her children, Albino Menchaca and wife Delma, Horace Menchaca and Carlotta Menchaca and her grandchildren, Sylvia Gallegos and husband Gilbert, Michael Flores, Marla Cardenas, Blas Escamilla, Rodrigo Menchaca and special nieces, Isela Rivas and Olga Santa Maria.
The family would like to extend to a special thanks to Benita Rodriguez for her loyal and trusted care of Mona in the last years of her life.
A rosary for Ramona will be held Friday, December 23, 2022 at 9:30am at St Mary's Catholic Church, 7 West Ave N, San Angelo, Texas, followed by a mass of Christian burial at 10:00am. Ramona will be laid to rest at Calvary Catholic Cemetery, 1501 West Ave N, San Angelo, Texas.
Services are under the direction of Harper Funeral Home.
Friday, December 23, 2022
9:30AM
St. Mary's Catholic Church 
7 West Ave. N 
San Angelo, TX 76903
Funeral Mass
Friday, December 23, 2022
10:00AM
St. Mary's Catholic Church 
7 West Ave. N 
San Angelo, TX 76903
Write Your Tribute