Dates

Oct 28, 1960 Dec 18, 2022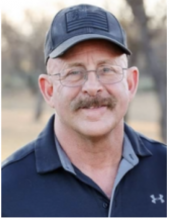 Howard W. Miller of San Angelo, born to Ronald and Mary Lou Miller on October 28, 1960, and sibling to Charles Miller, passed away on Sunday, December 18th, 2022, at the age of 62 years old.
Howard leaves behind his wife of 40 years, Denise Miller, and their 3 adult children, Ryan, Daniel and wife Lacy, and Benjamin Miller and wife Morgan, along with 5 young grandchildren, Faith, Raiden, Wyatt, Jase, and Ayla.
Howard was very well known and respected member of the community. He served the city of San Angelo as a Police Officer for 36 years, and 3 years with the Tom Green County Sheriff's Office as a Correctional Officer. But to many, he was more than just a father, husband, brother, "PooPah: or Police Officer. He was a friend. A friend to everyone he surrounded himself with. He touched many peoples' lives in only the way Howard Miller could. There was never a room he walked into where people couldn't help themselves but laugh at his contagious youthful spirit and sometimes goofy demeanor. Howard was also a man of true conviction. If he said he was going to do something, his word was set in stone.
Please join the Miller family to celebrate his life at Glen Meadows Baptist Church on Thursday, December 22, 2022, at 2:00 PM. An open viewing will be held at Harper Funeral Home from 8:00 AM to 7:00 PM on December 20th and December 21st, 2022.
Viewing
Tuesday, December 20, 2022
8:00AM - 7:00PM
Harper Funeral Home 
2606 Southland Boulevard 
San Angelo, TX 76904
Viewing
Wednesday, December 21, 2022
8:00AM - 7:00PM
Harper Funeral Home 
2606 Southland Boulevard 
San Angelo, TX 76904
Memorial Service
Thursday, December 22, 2022
2:00PM
Glen Meadows Baptist Church 
6002 Knickerbocker Rd. 
San Angelo, TX 6904
Write Your Tribute