Dates

Aug 16, 1942 Dec 17, 2022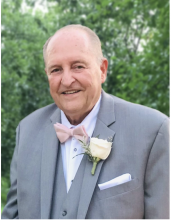 On Saturday, December 17th, 2022, Leslie Alan Cox, loving son, brother, husband, father, grandfather, and great-grandfather passed away at age 80.

Funeral services will be at 11:00 AM Thursday, December 22, 2022 at Southgate Church of Christ with minister Paul Shero, minister of the church, officiating. Burial will follow in Fairmount Cemetery under the direction of Robert Massie Funeral Home. Military honors will be rendered by the Ft. Hood Army Casualty Assistance Center.

Alan was born in Decatur, Illinois on Aug 16, 1942, to Hubert and Dorothy Strauch Cox. He graduated in 1961 from Stephen Decatur High School where he was active on the high school wrestling team. Alan joined the US Army stationed in Corpus Christi. While in the army, he graduated from the Trans School for Multi-Engineering - Airplane Mechanics and was stationed in Vietnam. When Alan returned he met Melanie Tant, who also worked on the army base as a Telephone Operator. In June of 1964, he began his civilian life and moved to Denver, CO to work for IBM. In 1971, he was promoted to an IBM territory sales manager for the state of Nebraska and moved his family to Norfolk, Nebraska. While in Norfolk, Alan taught adult bible classes at the Glen Park Church of Christ. In 1983, he retired from IBM, moved to San Angelo and started his own computer business, U.S. Tech. While in San Angelo, Alan attended Southgate Church of Christ and taught the adult class for many years. In 2006, Alan was in a tragic car accident and lost his wife, Melanie, and his sister-in-law, Charlotte.

After his recovery, he met and married Barbara Painter. They remained in San Angelo until 2016 when they moved to Springfield, Missouri to be closer to family. They remained in Springfield and were fortunate to have family close by from both sides of the families. Just recently, Alan and Barbara moved to Harding Place Retirement in Searcy, Arkansas. They were very fortunate to have family close by to give a helping hand.

Among many other accomplishments, Alan would have believed that being an avid student and follower of Christ was most important. Alan spent his adult life writing a bible commentary and teaching God's word. He was known to all in the church as a man of God's word and someone who they could trust to discuss salvation issues with in an honest and open way. He was instrumental in bringing many to know God. After his love of God, was his love of family and, of course, his love of delicious food. He has been known to show many pictures of his favorite meals. We believe his love of good food is what brought him to and kept him in San Angelo for so long, because of the many wonderful restaurants and excellent cooks and wonderful friends that are here.

Alan is preceded in death by his wife, Melanie Tant Cox; parents, Hubert and Dorothy Strauch Cox; his brother, Steve Cox; his Daughter-in-Law, Kathy Echoff Cox; his grandson, Tracey Cox and his Stepson, John Painter.

Alan is survived by his wife, Barbara Painter Cox; siblings, Judy Beierle, Joyce Peterson and Randy Cox; children, Marc Cox of Mönchzell, Germany, Christa Ellison and husband Dr. Dennis Ellison, of Normangee, Brent Cox and wife Stephanie of Springfield, Missouri, and Clay Cox and wife Chris Miller of Omaha, Nebraska; grandchildren, Melanie Clark, David Cox, John Marc Cox, Danielle Noe, Savanna Ballard, Tanner Cox, Victoria Fintel, Meagan Evans, Bryce Cox, Taylor Cox, Sarah Coonis, Caleb Cox, and Avery Cox; 23 great-grandchildren; stepchildren, James Painter and wife Eva of New Franklin, Missouri, and Lydia Hall and husband Jay of Searcy, Arkansas; daughter-in-law, Jennifer Painter of Ellijay, Georgia, 11 step grandchildren; and 4 step great-grandchildren.
 
FUNERAL SERVICE
Thursday
December 22, 2022
11:00 AM
Southgate Church of Christ
528 Country Club Rd
San Angelo, TX 76904
Write Your Tribute