Dates

Mar 14, 1933 Dec 17, 2022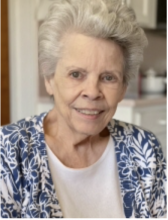 Isabelle Catherine "Kate" Nelson, nee Van Wingen, peacefully passed away Saturday, December 17, 2022, in San Angelo, two days after what would have been her 71st wedding anniversary.
Kate was born March 14, 1933, in Detroit, MI, to James and Isabelle Van Wingen. She married Gordon Nelson on December 14, 1951, just prior to his deployment to Korea during the war. With their children, James, John, and Paul, the Nelsons lived in various states including Florida, South Carolina, New York, and Texas, as well abroad in Japan, England, and Crete, Greece, the latter of which they enjoyed so much that they extended their tour there. Their time in England was during Queen Elizabeth II's silver jubilee of 1977, a four-month celebration that likely contributed to Kate's affinity for the British monarchy.
Kate was a dutiful military wife and mother during Gordon's 30 years with the Air Force, traveling with him everywhere she could and prioritizing the care of her family as one would a career. During Gordon's first deployment, Kate, a first-time mother, rushed their newborn son to the ER, where doctors discovered he had a life-threatening birth defect requiring immediate surgery. Even during challenging times such as these, and despite tragedies that would break most people, Kate persevered with dignity and strength.
Beneath her grit, tart wit, and fierce independence, all of which she maintained through the end, was a tenderness some were fortunate to know. She was fond of animals, particularly cats, and took in her share of strays throughout the years. When the family moved from England to Texas, they bought a seat on the plane just for their rescued pet cat.
Kate worked outside the home for the first time when the family moved to San Angelo, as a fitness instructor at the YMCA and, later, Figure World. Always an avid reader, she worked at B. Dalton's Book Store in the mall until it closed and at Hastings Books, Music & Video until its closure when she was in her 80s.
For more than 40 years, Kate was a dedicated Fort Concho volunteer and a fixture at Officers Quarters No. 3 during its annual Christmas celebration. Each year she decorated the tree, dressed in period costume, and greeted visitors. In her final days, she reflected fondly on the lifelong relationships formed with her fellow volunteers, most of whom have passed.
Kate was preceded in death by her parents and her sister, Marjorie; sons, Paul and John Nelson; and husband, Gordon.
She is survived by her son, James Nelson (Michele) of Waukesha, Wisconsin; granddaughter Emily Negron (Luis), and their son, Ezra, of Waukesha; granddaughter Melanie Nelson of Waukesha; granddaughter Rebecca Nelson Sankey and family of San Angelo; special friends, Diane and Ron Hoelle, and Lynn Bradshaw, all of San Angelo; her beloved feline companion, Oscar; and several other family members and friends.
The family extends a special thanks to Hospice of San Angelo and San Angelo Nursing and Rehab.
Please consider a donation in Kate's memory to the fort, ASPCA, West Texas Counseling & Guidance's Zero Suicide Prevention or LOSS groups or your favorite charity.
Write Your Tribute