Dates

Apr 24, 1946 Dec 15, 2022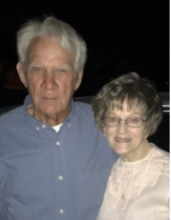 Susan L. Clark, of San Angelo, Texas passed away December 15, 2022 at the age of 76. Susan was born in Pueblo, Colorado on April 24, 1946 to Wendell and Rachel Law Huitt. Susan married Bill L. Clark on July 15, 1966 in San Angelo, Texas.
Susan was a dedicated wife of 56 years to her loving husband Bill and an adoring mother to her children Tom Clark and Lucia Clark and her daughter-in-law Danielle M. Clark. She was a proud graduate of Texas A&M University Class of 1992. She was a gifted and award-winning quilter who loved piecing together fabric into a beautiful work of art. Susan is lovingly remembered by her family and friends.
Susan is preceded in death by her parents. She is survived by her husband Bill; children, Tom and Danielle Clark of Vidor, TX and Lucia Clark of Tomball, TX; grandchildren, Weston and Benjamin; siblings, William C. "Bill" Huitt of Albuquerque and Wendy Huitt of Oklahoma; sister-in-law, Lucia Smith of San Angelo as well as numerous nieces and nephews.
Services for Susan will include a visitation at Harper Funeral Home on Sunday, December 18, 2022 from 4 – 6 PM. A graveside service will be held at Old Runnels Cemetery in Ballinger Texas on Monday, December 19, 2022 at 11 AM with Gary Booth officiating.
In lieu of flowers, donations can be made to Texas A&M University Association of Former Students or the First United Methodist Church of Ballinger.
Visitation
Sunday, December 18, 2022
4:00PM - 6:00PM
Harper Funeral Home 
2606 Southland Boulevard 
San Angelo, TX 76904
Graveside
Monday, December 19, 2022
11:00AM - 12:00PM
Old Runnels Cemetery 
FM 2887 
Ballinger, TX 76821
Write Your Tribute