Dates

Jul 25, 1951 Dec 15, 2022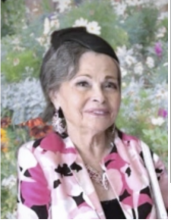 Shelley Webber passed away around 2 am, Thursday, December 15, 2022. She was lovingly attended to by her friend Carol Rowley in her home.
Shelley was born to Lendall and Shirley Williams, July 25, 1951, in San Diego California. Shelley was eldest sister to Brenda Selsor and Peggy Crotti. Her sisters remember Shelley enjoying ballet classes in elementary school and learning at age 11 to cook and care for the home. These skills grew with Shelley through the years as did emphasis on her love of family and her Savior, Jesus Christ.
Shelley graduated from Pacific Grove High School in California, May 1970. A few weeks later she married the love of her life, Jack Webber, June 20, 1970, in Monterrey CA. Jack was stationed at the Defense Language Institute where he became a Russian linguist for the military. Shelley and Jack lived in many interesting places while serving in the military including California, Texas, Japan, and Germany. Jack and Shelley were married almost 52 years.
Their first son, Michael Shayne Webber, was born in Misawa Japan, August 29th, 1972. Shelley fixed on calling him Shayne because she did not want people to call him Mikey. A few years later, they welcomed their second son, Joel Sean Webber, born in Pacific Grove, California, on January 9, 1975. Shelley would joke, that after these two, there was no need for more children.
Shelley worked for several years in her young married life. The most interesting job was in a toy store, Mrs. Pussycat's Porch in Carmel California, where they made high-quality toys. Shelley would dress up as a Raggedy Ann doll and be puppet master for a marionette puppet. She held fond memories of that time in her life. While stationed in Germany she was secretary to an officer in the military. Once back in Texas, Shelley volunteered at her sons' school and as den mother for their Cub Scouts and Webelos organizations. As the boys grew older, she offered them the option of her working or staying home. The boys chose for her to stay home, and so she spent the rest of their days at home serving them with her gracious love.
Her grandchildren were always excited to visit because "No one cooks like Nana!" Shelley had energy to run circles around all of us! She was always up for a game, to run around the park with the children or go shopping. Shelley loved shopping for gifts for her friends and family. She was the ultimate gift giver. Shelley freely gave of her time, talents, and resources. Shelley served as a chaplain and was involved with many ministries across San Angelo. Other than serving her family, serving the Lord was her highest priority.
Shelley leaves behind her son Shayne and wife Jere' Webber; grandchildren Madisen, Britton, Michael and Belyn; son Joel Webber and granddaughters August and Kaylee Webber; and sisters Brenda Selsor (Russ Selsor), and Peggy Crotti.
The family will receive friends for visitation from 3:00 P.M. – 5:00 P.M. Wednesday, December 21, 2022 at Harper Home. The Funeral Service will be 11:00 A.M., Thursday, December 22, 2022, at The Christian Church of San Angelo. The burial will follow at Lawnhaven Memorial Gardens.
Shelley's legacy will live on as we all strive to be more humble, generous, compassionate, and Christ like – as she was.
We love you!
Family and friends may share condolences and sign the online register at
Visitation
Wednesday, December 21, 2022
3:00PM - 5:00PM
Harper Funeral Home 
2606 Southland Boulevard 
San Angelo, TX 76904
Funeral Service
Thursday, December 22, 2022
11:00AM
Christian Church of San Angelo 
4064 Bryant Blvd S 
San Angelo, TX 76904
Write Your Tribute