Dates

Aug 26, 1935 Dec 15, 2022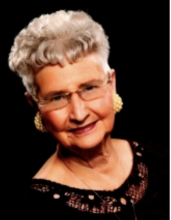 On Thursday, December 15, 2022, Faye Moon, 87, of San Angelo, Texas went to be with the Lord, joining the love of her life, Harold Moon. Faye was born on August 26, 1935, in Baird, Texas, to Jim and Dolly Faircloth. She married Harold on November 3, 1953, in Ballinger, Texas. They were married for 60 years until his death in 2014. She loved Christmas and will be celebrating in heaven this year.
Faye was an excellent seamstress, sewing for the public for many years while taking care of her daughters at home. She eventually went to work for General Telephone Company until her retirement. She loved to bake and share her special cakes and sweets with others. She was a volunteer at Shannon for many years and loved her time and friends there.
Faye was preceded in death by her parents, two brothers, J W Faircloth and Wilburn Faircloth and one sister, Louise Jones.
Faye is survived by her two daughters, Debra Blasingame and husband Larry and Sheryl Moon and Larry McMillan all of San Angelo, Texas. She is survived by four grandchildren, Lisette Hudson and husband Bentley of Prosper, Texas; Ryan Ford and wife Mandy of Garner, North Carolina; Paul Ford and wife Casey of Kyle, Texas, and Brittany Williamson and husband Scott of Caldwell, Texas. She leaves behind three great-grandsons, Cooper Ford, Kylin Hair and Channing Hudson as well as four great-granddaughters, Landry Hudson, Charli Williamson, Elizabeth Faye Williamson and Lily Ford.
She is also survived by a very special niece, Bonnie Olson, of San Angelo, Texas. Bonnie and mom talked often on the phone and played cards together weekly. She also leaves behind several other nieces and nephews.
A special thanks to Lyndale, Comfort Keepers and Hospice of San Angelo for the wonderful love and compassion shown to mom over these last several months.
Visitation will be held at Harper Funeral Home on Wednesday, December 21, 2022, from 5pm – 7pm. A celebration of her life will be held at Belmore Baptist Church on Thursday, December 22, 2022, at 2pm. This will be followed by a graveside service at Lawnhaven Memorial Gardens.
Visitation
Wednesday, December 21, 2022
5:00PM - 7:00PM
Harper Funeral Home 
2606 Southland Boulevard 
San Angelo, TX 76904
Funeral Service
Thursday, December 22, 2022
2:00PM
BELMORE BAPTIST CHURCH 
1214 S. Bell St. 
San Angelo, TX 76903
Write Your Tribute