Dates

Oct 14, 1953 Dec 14, 2022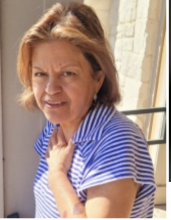 Our beautiful mother Olvido S. Flores (Bea) was called home to be with our Lord on Wednesday December 14, 2022, at the age of 69. Olvido was born on October 14, 1953, in Big Lake, TX. She is proceeded in death by her parents Robert and Maria Subia; siblings Pedro Subia, Ruben Subia, Otilia Elizondo, and Robert Subia, Jr. ; Son- Robert "Toots" Subia
Olvido "Bea" graduated from Reagan County High School and attended Odessa College. Bea was self-employed and a hard-working woman. She never knew a stranger and always tried helping everyone when she could whether she felt good or bad. One of the many things she loved was being around her grandchildren. She would do her best to attend all their sports activities. She was their number one fan! She loved her family and friends and there was never a dull moment when you were around her.
She is survived by her three daughters, Amanda Flores husband Juan Riojas; Sonya Flores fiancé Gabriel Duenas; Vanessa Flores, and son Juan Flores, Jr and wife Rachel Flores. Two sisters - Pearl Ramirez and husband Juan Ramirez and Nora Subia. And 8 grandchildren, Shiloh, Christian, and Kaden Galindo, Ariale Vargas, Bobby Flores, Katelin Riojas, Brianna Riojas. Special nieces and nephews- Jeremy, Yesenia, Adam, Zach, and Isaiah Ramirez, Ricky and Rene Subia, Eric, John, Gerardo, and Javier Elizondo, Amy, Matthew, and Jacob Allen. Special grandchildren- Ezekiel Hernandez, Mariah Cardenas, and Karissa Garcia.
A viewing will be held on Tuesday, December 20, 2022 from 8:00 AM to 11:00 AM at Harper Funeral Home. Services to follow the viewing at 1:00 PM at Harper Funeral Home.
Viewing
Tuesday, December 20, 2022
8:00AM - 11:00AM
Harper Funeral Home 
2606 Southland Boulevard 
San Angelo, TX 76904
Funeral Service
Tuesday, December 20, 2022
1:00PM
Harper Funeral Home 
2606 Southland Boulevard 
San Angelo, TX 76904
Write Your Tribute