Dates

Jul 07, 1936 Dec 14, 2022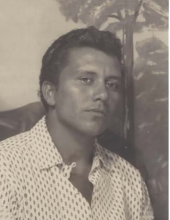 Following a yearlong illness, Leonardo Gonzales Montelongo, 86, passed away on Wednesday, December 14, 2022 in Ft. Worth surrounded by family.

Visitation will be from 10:00 AM - 8:00 PM on Tuesday, December 20, 2022 at Robert Massie Riverside Chapel with the Rosary being prayed at 6:00 PM. Funeral Mass will be held at 2:00 PM Wednesday, December 21, 2022 at St. Mary's Catholic Church, with Father Joey Faylona, pastor, officiating. The burial will follow at Lawnhaven Memorial Gardens under the direction of Robert Massie Funeral Home.

Leonardo was born on July 7, 1936 in Del Rio to Serapio and Juana Montelongo, their seventh child. Years later Serapio relocated the family to San Angelo where Leonardo attended St. Mary's Catholic School. In his teen years Leonardo worked the crop fields in the surrounding farming community alongside other members of his family. Eventually, Leonardo sought out employment in the city and for brief periods worked at local businesses, including Nathan's Jewelers. Leonardo married Dolores Lopez in 1956 and started a family. Not long after, Leonardo joined Wendland Manufacturing where he worked for forty plus years, made many lifelong friends, and retired from the company in 2004.

In retirement, Leonardo enjoyed biking, working on projects around the house and in the yard, spending time with his family, especially his grandchildren and traveling to visit siblings. He enjoyed watching football, especially the Dallas Cowboys and he was a big fan of classic western TV shows and films. To those that knew him well, he had a great sense of humor. He was also an avid reader of Reader's Digest and had a habit of reading the newspaper from front to back every day.

Leonardo is preceded in death by a grandson, Robert L. Ramirez; his parents, Serapio and Juana Montelongo; and seven siblings Adolfo Acosta, Christina Rodriguez, Victoria Gutierrez, Abel Montelongo, Jose Montelongo, Jacinto Montelongo, and Mario Montelongo.

He is survived by his wife, Dolores Montelongo: his five daughters, Irene Montelongo of Austin, Rosario 'Rosie' Montelongo Sanchez of Ft. Worth, Yvonne Willis and husband Randy of Colleyville, Deborah Corley and husband Ricky of Ft. Worth, and Cleo Morales and husband Rick of Austin; four grandchildren, Austin Sterling Montelongo, Andrea Blanco, Matthew Morales and Marissa Morales; his brother, Serapio 'Tala' Montelongo of San Angelo; his sister, Rebecca Garcia of San Angelo; and numerous nieces and nephews.

Serving as pallbearers will be grandchildren, Austin, Andrea, Matthew and Marissa; nephew, Jesse Garcia Jr.; sons-in-law, Rick Corley, Randy Willis and Rick Morales.
ROSARY
Tuesday
December 20, 2022
6:00 PM
Robert Massie Riverside Chapel
402 Rio Concho Dr.
San Angelo, TX 76903
---
MASS
Wednesday
December 21, 2022
2:00 PM to 3:00 PM
St. Mary's Catholic Church
7 W. Ave. N
San Angelo, TX 76903
Write Your Tribute