Dates

Jan 25, 1929 Nov 26, 2022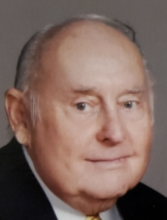 Travis Eugene (Gene) Manning, 93, passed peacefully in his home, surrounded by loved ones, on November 26, 2022. He is now resting in the arms of Our Lord and Savior and is reunited with his loving wife of 69 years, Louise. He was born January 25, 1925, in Elijah, TX to Travis Ezra and Ora Lee (Huggins) Manning.
He married the love of his life, Louise Jackson on August 7, 1951. They were the proud parents of four children, eight grandchildren and six great-grandchildren.
He proudly served in the US Army during the Korean War. His work included buying and flipping houses long before it was the "thing" to do, selling real-estate and cars, and dabbling in the stock market. A man of quiet faith, he attended Johnson Street Church of Christ.
He is survived by daughters Lisa Ethridge (Robert Baxter), Marsha Baxter (Bruce), sons Gary Manning (Sue), and Jeff Manning (Carol).
Grandchildren are Kent Stevens of Houston, Seth Stevens (Heather) of Richardson, Ross Baxter (Krys) of Austin, Grant Baxter (Bekah), Travis Manning (Naomi Aquirre), Rianne Manning, Mallorie Manning and Jamie Manning, all of San Angelo.
Great-grandchildren are Lucille and George Tennyson Baxter, Juliana Stevens, Sydney and Geneva Baxter, and Benjamin Manning.
He was preceded in death by his parents, spouse, sister LaVerne Dykes and brother Glen Manning.
The family would like to express our appreciation to Dr. Charles Jones and Nurse Samantha, for the many years of his health care, and to the staff of Concho Hearts Hospice, especially Nurse Cindy and Aide Christina, for their compassionate end-of-life care.
Gene enjoyed going to the casinos to play the slots, scratch-offs, feeding the birds, and spending time with his coffee drinking friends, who would meet at the coffee shop or bowling alley to discuss/solve the world's problems. He was a quiet Texas gentleman and dedicated family man who commanded and gave much respect. He loved and was loved by his family and was happiest when he was around all the grand and great grandchildren. We will miss you "Grandad" but know you are at peace with "Grandmama."
Gene will be available for viewing, Monday, November 28, 2022, at Harper Funeral Home from 12:00pm to 7:00pm. Graveside service will be Tuesday, November 29, 2022, at 3:00pm at Lawnhaven Memorial Gardens with Bryan Elliott officiating.
In lieu of flowers, memorials may be made to Meals for the Elderly.
Viewing
Monday, November 28, 2022
12:00PM - 7:00PM
Harper Funeral Home 
2606 Southland Boulevard 
San Angelo, TX 76904
Graveside
Tuesday, November 29, 2022
3:00PM
Lawnhaven Memorial Gardens 
4989 FM Highway 1223 
San Angelo, TX 76905
Write Your Tribute